Posted 28th January 2020 | 11 Comments
Government confirms £500m railway reopening fund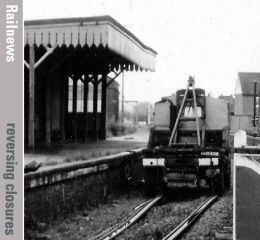 A FUND of £500 million has been promised by the Government as the first step in reopening railways around the country, although only £21.9 million has been allocated so far.
Transport secretary Grant Shapps visited the Fleetwood area, where the line from Fleetwood to Poulton-le-Fylde lost its passenger services in 1970, although most of the line continued to be used by freight trains serving an ICI plant at Burn Naze until 1999. The track is still in position between Poulton-le-Fylde and the outskirts of Fleetwood, but it is not in use. Mr Shapps said £100,000 is to be allocated to fund the preparation of detailed proposals to restore the passenger service.
Meanwhile his colleague rail minister Chris Heaton-Harris was in the north east, where he visited Bedlington station to announce £1.5 million of funding to help with the return of passenger services on the Ashington-Blyth-Tyne lines, sections of which have been candidates for reopening for many years after the withdrawal of passenger services to Ashington and Blyth in 1964.
Both the Fleetwood and Ashington/Blythe closures had been proposed by British Railways Board chairman Dr Richard Beeching in his controversial 'Reshaping' report of March 1963, although many passenger train services had already been withdrawn before Dr Beeching was appointed in 1961 and more were added to the closure list long after he had gone.
£21.9 million out of the headline figure of £500 million has been committed so far. Apart from £1.5 million for Ashington-Blyth-Tyne and £100,000 for Fleetwood, there is £300,000 for an 'Ideas Fund', which the Department for Transport says is 'to encourage innovative ideas that will then be considered for further funding in the future'. As part of this initiative, MPs, local authorities and community groups in England are being invited to lodge proposals on how they could use funding to help reinstate withdrawn rail services.
The lion's share of £20 million is a boost for the existing New Stations Fund, which has already helped to open 10 stations in England and Wales.
Chris Heaton-Harris said: 'This is an exciting moment as we look to revitalise our railways, reconnect communities and reinvigorate our country.
"Local MPs, councillors and community leaders are the greatest champions of their local lines, and we want to work closely together to ensure the projects with the greatest potential have the support they need.
'There will also be opportunities for towns who have lost stations to receive a boost, as we launch another round of our New Stations Fund.'
The plans have received a cautious response.
Labour's shadow transport minister Andy McDonald said: 'The Conservatives claim to have been reversing Beeching cuts since 2017 despite not reopening an inch of track. Investing in the railway is a fantastic policy but this is meaningless without a serious funding commitment of billions of pounds. The timing of this announcement is also suspicious and seems designed to distract from the imminent collapse of the Northern rail franchise.'
RMT general secretary Mick Cash was also doubtful, saying: 'The idea that this is a reversal of the Beeching cuts is PR spin way out of control. This is a bare-faced attempt to distract attention from the daily chaos on Northern, South Western, TransPennine and Britain's other basket-case franchises.'
He added: 'RMT welcomes any investment in our railways but £500 million is a drop in the ocean compared to what's really required.'
Reader Comments:
Views expressed in submitted comments are that of the author, and not necessarily shared by Railnews.
The ED is correct most of the closures were under the Wilson Government in fact they closed lines that Beeching was not in favour i.e. the Waverley route?
And speaking of the crook Marples didnt he do a bunk to the continent when on the verge of arrest for fraud
And as another contributor suggests plenty of other closed lines that are far more important than a branch line to a fishing port

I think the missing 7 miles of the Uckfield line between Uckfield and Lewes should be considered, it would almost double the potential of the existing Uckfiled services i.e provide a southern connection and would provide a possible alternative route to the Brighton Mainline which is already saturated with traffic.
I agree with the fact that 500 millions isn't much did I see a figure or £30-35 million per mile to reinstate a railway so we are talking 16-17 miles here....That won't go very far...Martin

There should be a bidding process for two £225m chunks of investment. None of it to be spent on new consultants reports, except design work. Bulk of each lot of £225m on actual delivery.

The largest Beeching closure must have been the Great Central Main Line.
Currently, the section from Marylebone - Aylesbury still hosts a passenger service,whilst the section north as far as Calvert is in place , as "freight only".

If the 50 (appx.) miles further north could be relaid / rebuilt to a new junction with WCML just to the south of Nuneaton, we could have the much needed extra capacity for the southern part of the WCML. Naturally, there would need to be some "beefing up", especially with the signalling , etc., and it would only support conventional speeds ( up to 140mph for cab signalled .Pendolino's).

This could act as an "overspill " intercity line, or as a dedicated freight line. At the London end, terminal capacity could be available at Marylebone or Paddington ( given reconstuction of the Grendon - Ashenden link) due to diverssion of most GW suburban services onto Crossrail,

Perhaps most importantly, a rough estimate of cost , at £4bn., is a fraction of the £26bn. for HS2 phase 1.

Any TGV type line in this country would only make sense for targets further north than Manchester and Leeds, such as Tees / Tyne / Scottish Central Belt to London.

Most of Dr Beechings cuts were under Conservative Government when Ernest Marples was Transport Secretary who also happened to have a road building company just in time for building Motorways!

This amount wonít go far and despite the phone in on BBC Essex Radio today itís unlikely that long closed stations like Maldon will reopen given the lines were both lifted and often built upon !

The best chance of reintroduced passenger services lay with existing freight branches which either used to have passenger services or have development which could be served and even then this amount will only part fund any scheme!

Itís easy to get dewy eyed about closed lines but most of them were closed because at that time they had little traffic apart from some milk churns at stations which had more staff than passengers!

Of course the creation of tram trains might help cut costs and combine use of on street running and dedicated track services.

[The first Beeching report was published under a Conservative government in March 1963. The first closure included in the report's recommendations followed in October 1963. Labour gained power on 16 October 1964, and remained in charge until 1970. Nearly all the 'Beeching closures' took place during that time.--Ed.]

I would like to see connectivity especially in my region the western, for example connecting main lines for diverting routes when engineering, for example, Didcot to Newbury, Newbury to Winchester. Also where the lines been removed from the landscape surely this would be more expensive to put back?

This is welcome news, and something that the Campaign for Better Transport has been working toward for years. There are many former branch lines that have a solid business case for reopening, and especially those in tourist areas. The biggest scandal of the last 60 years is not that they were closed, but how former railway land was not protected, leaving many towns and cities with a perpetual traffic nightmare. Hopefully a successful branch line reopening project will encourage the revival of others.

Criticism from the Labour Party is a bit rich, considering they also promised the same thing in 1997 but (surprise, surprise) didn't lift a finger once they won their majority. I could also go back to their 1966 campaign pledge to stop the rail closures that they also very conveniently forgot about once they were in office...

Can any of the 4,000 miles closed under the Beeching Report (mostly by a Labour Government eager to please the Transport Union TGWU) be reopened ? Probably very few. If they had any potential, they were taken over by Enthusiasts and now run as Steam Railways. The brutal fact is that they were closed because they had very few passengers and lost shed-loads of Taxpayers money. If a line is to re-opened it is because the Government has intentions to start building 1,000s of houses near it to make it profitable.

The magic money tree makes its reappearance. The funds available will just about cover the two lines mentioned, enough to upgrade/goldplate the existing track and keep the consultants and other hangers-on happy.

More seriously, what is the business case for what will essentially be a branch line to the outskirts of Fleetwood? Surely the residents of Portishead and Skipton/Colne would have the right to feel aggrieved if this project jumps ahead for what would be purely political reasons.

Reinstating a passenger service to the currently freight only Ashington-Blyth line has been on the radar for several years and subject to numerous reports. I'm sure campaigners were expecting today's announcement to be guaranteed funding package to actually commence the physical work of upgrading the railway to passenger status. Rather than being 'oven ready' to use the PM's rhetoric all that is being offered today is to fund yet more consultant fees for a further report.

The proof of the commitment to reverse the Beeching cuts will be how many miles are reopened before the next General Election. Until then it's a nice day out for the minister genetating some positive spin while avoiding the difficult decisions that are starting to clog his intray.