Posted 23rd January 2020 | No Comments
23 January: news in brief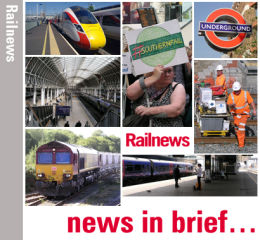 Derailed freight train blocks London Overground line
INVESTIGATIONS have begun into a freight train derailment in north London early today, which has blocked the line between Leyton Midland Road and Walthamstow Queens Road on the Gospel Oak to Barking line. The derailment of one wagon damaged 3km of track, and Network Rail has warned that repairs will take several days. London Overground services between Barking and South Tottenham have been suspended and replaced by buses. The cause of the derailment is not yet known, and investigations are under way.
Channel Tunnel operator's revenue hit by Brexit and French unrest
CHANNEL TUNNEL operator Getlink has estimated that its revenue in 2019 was reduced by about 18 million Euros, because of the uncertainties surrounding Brexit and social unrest in France. Shuttle revenue was down by 2 per cent to 629.9 million Euros, but traffic continued to grow on Eurostar, which pays to use the tunnel, topping 11 million passengers for the first time. Europorte revenues were also up by 4 per cent, to 126.5 million Euros. Chairman and CEO Jaques Gounon said: 'We delivered a solid performance recording a tenth consecutive year of revenue growth.' He is also predicting a ' transition to an environmentally-focused economy'.
Pacer winners announced
THE three winners of retired Pacer vehicles have been announced. There were 17 contenders in the competition to be given a redundant Pacer vehicle for new uses, and the three who have won had submitted the best ideas, said the Department for Transport. The groups chosen are Platform 1, a mental health charity based at Huddersfield station, Airedale NHS Trust and Fagley Primary School in Bradford. Platform 1 will convert its carriage into a kitchen for cooking lessons, Airedale NHS Trust will gain a community space for patients staying at Airedale General Hospital and Fagley Primary School will create a new science laboratory. The school's carriage will also be available for talks and events. Transport secretary Grant Shapps said: 'The three winners are incredibly deserving, having presented creative and innovative ideas that will see their Pacer have a lasting and positive impact within their community.'