Posted 10th January 2020 | 2 Comments
Franchising crisis deepens as West Midlands joins the doubtful list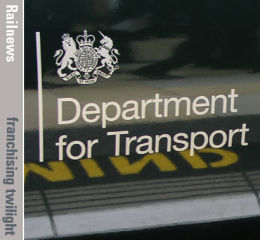 Updated

THE rail franchising crisis is deepening, with West Midlands Trains joining the list of contracts in doubt. Prime Minister Boris Johnson has also confirmed that contingency plans are being developed to replace Northern.
The Prime Minister was answering a question about WMT from West Worcestershire MP Harriett Baldwin in the House of Commons, who put it to him that the recent performance of WMT has been 'absolutely woeful'. She also asked Mr Johnson if he agreed with West Midlands mayor Andy Street, who says WMT should only have until the end of this month before the cancellation of its franchise is considered.
Mr Johnson said the issue was being looked at, and that the 'bell is tolling for West Midlands rail'.
He also confirmed remarks made about Northern by transport secretary Grant Shapps on 2 January, who had said: 'I'm going to take action -- there are a couple of ways that can go, but one is to strip the franchise and one is to have a short term contract.'
The Prime Minister told Makerfield MP Yvonne Fovargue: 'I have to say to the hon. Lady that I share her outrage, and I understand what she says. We are developing contingency plans for a replacement for Northern Rail. We are also looking at the whole way that the franchising system operates.'
South Western Railway, meanwhile, reported a loss of £137 million in the year to March 2019, and says cash support from its owners FirstGroup and MTR may not last until the end of this year. SWR's dispute with the RMT over on-train staffing also remains unresolved, after almost a month of strikes in December.
More question marks hang over Greater Anglia, which along with SWR has complained about the effect of the DfT's Central London Employment Mechanism on franchise finances, and TransPennine Express, which is expected to notch up a loss of more than £100 million for its owners FirstGroup by the time that the present contract ends in April 2023.
Abellio, which owns majority shares in West Midlands Trains and Greater Anglia, has also come under fire from the Scottish Government, which is going to use a break point in the contract to terminate Abellio's ScotRail franchise in March 2022. Extensions up to 2027 had been on the cards.
The Rail Review from Keith Williams is now awaited as a White Paper, and Mr Johnson has already referred to Mr Williams' 'very valuable report'.
Labour's shadow transport secretary Andy McDonald responded in an article on the Politics Home website.
He says: 'It's very clear to me what needs to be done. We need a rail system which is simplified, accountable and affordable. Key to achieving this is unifying rail operations and infrastructure under public control.
'I also said that the government's review and its recommendations would be usurped by events. The Tory government has kept a number of rail franchise contracts on life support for political reasons. Arriva Rail North, First Transpennine Express, First/MTR South Western and Abellio Greater Anglia have all been described as zombie franchises.
'All of these contracts were awarded by Tory Ministers. All are hanging by a thread, losing money and providing poor service. All of them are undeliverable with significant costs both to taxpayers and passengers … Tory Ministers must come clean and be honest about these failing rail contracts and turn off the life support.'
Reader Comments:
Views expressed in submitted comments are that of the author, and not necessarily shared by Railnews.
The problem with WMT appears the same as most other franchises.

Inheriting senior managers / directors who managed to screw up in a major way at other operators. For some reason, these £150K hangers on go from firm to firm and the whole point of franchise change is bring substantial improvement - not bring the errors of other failed operators to the new firm.

Quite interestingly, one franchisee with major plans to substantially alter the operating pattern had frontline staff approaching directors months before the new timetable was introduced, stating it wouldn't work, and explaining why. Then, surprise surprise months later the new timetable came in, didn't work, and the exact reasons predicted by drivers, guards and station staff became the reality.

I do sometimes wonder if there is either someone within senior management who has deliberately created this situation to cause the franchisee to fail OR they really are that unintelligent to create a plan which obviously wouldn't work.

Yet another Abellio Franchise in the mire, straight after eviction from Scotrail. But why are they not being hounded for the outright shambles on Greater Anglia? Yesterday they were flag-waving as one new main line train between Norwich and London. They forget to mention that 2 others were cancelled and the rural debacle continued on the Ipswich-Felixstowe and Ipswich-Peterborough lines (and probably elsewhere if truth be known). Yet to this date I have not seen or heard any real remorse or regret, apart from the bog standard rubbish. Ands they STILL try and pass the buck by blaming "signal issues" as if it's down to Network Rail when the whole world knows it's the new trains inter-action that is the issue.
They have lost all respect and support in this part of the world!