Posted 3rd December 2019 | 1 Comment
RMT calls for new talks on second SWR strike day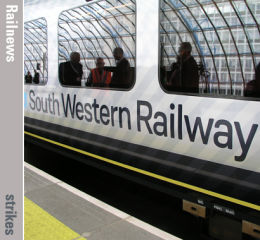 THE RMT union has urged South Western Railway to return to the negotiating table, on the second day of the strike over on-train staffing and the future role of guards.
The walkouts are currently set to continue almost without a break until New Year's Day.
The last talks broke up on Thursday evening, and SWR has claimed that a potential settlement was rejected by the RMT's Executive after the meeting.
RMT general secretary Mick Cash said: 'Our members are solidly supporting the second day of this phase of strike action and are standing firm the length and breadth of the franchise in defence of the role of the guard, accessibility and the safest method of train despatch and operation.
'It is frankly ludicrous for the company to simply jam their heads in the sand rather than getting back round the table to get the same deal back on track that they pulled away from at the last minute in earlier negotiations.
'A deal is there to be done which would cost the company nothing and which would give the safety and accessibility guarantees at the platform/train interface that we have been seeking. SWR need to get out of the bunker and get back into talks.'
SWR responded: 'We are always open to talks if the RMT is ready to work with us to improve our service and develop a more visible, customer-focused role for guards.'
Reader Comments:
Views expressed in submitted comments are that of the author, and not necessarily shared by Railnews.
3 years on from the same issue and perpetual strikes, including the dire Christmas experience, on GTR Southern and the RMT continue to peddle the same line. For the rights and wrongs of DOO and disability access, which is a real concern, can't see how the lack of strategic political sense and the oafish nonsense that comes out of the RMT seniors will cause anything but the same result we saw in the Southern dispute. There is no more 'political motivation' now than there was in 2016 and for the RMT leadership to show such poor judgement continually just points to another future loss and being out manoeuvred, and rightly so. Can't help think that their paying members deserve better than Mick Cash and others, the public certainly deserve more than being trapped in this on going DOO argument. The further the RMT seniors take this vindictive plan forward the more and more the majority of the franchise customers will never forgive the staff themselves; as you see now on GTR Southern.