Posted 16th November 2019 | 7 Comments
Season of industrial action starts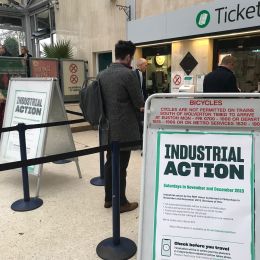 Updated 16 Nov., 09.50
BREAKING UPDATE: National Rail has reported that WMT services from London Euston are even more limited than expected, because some staff who are not involved in the strike have allegedly refused to cross picket lines.
THE first day of industrial action by the RMT on West Midlands Trains has begun, and WMT is warning that service levels are sharply reduced, with no trains at all on some routes or sections of routes.
The walkout marks the start of a season of industrial discontent, because more action by RMT members is also looming between now and the end of the year affecting South Western Railway, Tyne & Wear Metro, the Victoria Line of London Underground and Eurostar catering. The RMT is also balloting London Underground cleaners, while the clerical and managerial staff union TSSA is preparing to ballot its members on CrossCountry in a dispute over pay.
The West Midlands walkouts, which are set to continue every Saturday until the end of the year, involve drivers, conductors and conductor instructors, and the action has been triggered by what the RMT has described as 'plans by the company to bulldoze through Driver Only Operation and rip apart the safety critical role of the guard'.
RMT general secretary Mick Cash said: 'We will not allow the drive for profit to override the core issue of safe and accessible services for all on West Midlands Trains and we stand firm on that very basic principle. We will never compromise on the issues of passenger safety and accessibility. The union remains available for talks.'
West Midlands Trains said: 'We are very disappointed that Saturday's action by the RMT is going ahead. There is no need for this action. We have never proposed driver only operation. We are committed to keeping a safety-critical conductor on every passenger train.
'In recent days, we proposed a solution which meets the latest demands from RMT, in respect of our new trains when they are delivered. The solution means conductors retain responsibility for safe train despatch from stations. We remain determined to find a way of resolving this dispute without further disruption and inconvenience for our passengers.'
The lines which will be without West Midlands Trains services during the walkouts were expected to be Wolverhampton and Shrewsbury, Kidderminster and Hereford, Hereford and Bromsgrove, Whitlocks End and Stratford-upon-Avon, Stratford-upon-Avon and Dorridge, Dorridge and Leamington Spa, Walsall and Rugeley Trent Valley, Rugby and Crewe via Nuneaton and Rugeley Trent Valley, and Crewe and Stafford via Stoke-on-Trent. There is also no service between Watford Junction and St Albans Abbey.
Timetables on other routes have been reduced.
The WMT strikes are set to be followed by 27 days of strikes on South Western Railway between 2 December and 1 January, again in a dispute over the duties of on-train staff.
However, there was brighter news from Virgin Trains. A strike of train managers set for 19 November was called off after agreement was reached with the RMT. Virgin said it now expected to offer a normal timetable as a result of the settlement.
Reader Comments:
Views expressed in submitted comments are that of the author, and not necessarily shared by Railnews.
My information, in the Scotrail case, was that door opening was given over to drivers, with the more safety - critical door closing in the hands of the conductor / guard, meaning the latter would spend less of their time on door duties, and so be more available for passenger oriented duties.

Please correct this if it is not the case.


The ScotRail issue wasn't resolved with a compromise, it was total capitulation on the behalf of ScotRail (the hand of Scottish government may have been involved there) to RMT demands, and added expense of installing door controls for guards on trains that were built for DCO operation.

From my politically non-partisan perspective, it seems a three-way political drama has been on the go from the time of the TSGN disputes on. DfT, the TOCs and the unions have all been 'grinding axes' at the general expense of train users. And yes, part of this appears to be an attempt to turn public opinion in favour of renationalisation. Apparently, a similar dispute on ScotRail came to resolution in a matter of weeks with a sensible compromise. Why the difference?

If BoJo gets a working majority, hopefully we'll see new legislation to outlaw industrial action in vital services like rail.

How would Mick Cash earn his £150k a year if he couldn't call endless pointless, Luddite political strikes?!

To correct my comment, it was Sean Hoyle (RMT President) caught on video stating their aim was to bring down the government. Still, it proves the point the RMT are lying when they try to claim these ongoing strikes over Driver CONTROLLER Operation of doors have nothing to do about safety, especially when it has been guaranteed to continue to roster a guard on all services, and the number of guards (and therefore RMT members) is planned to increase.

This industrial action is not about safety, nor is any other of the RMT industrial actions about safety. Its simply to create, support and sustain a narrative that the private rail industry does not work in the interests of the public.

This ridiculous proposition supports a political agenda of one political party of renationalisation.

So if you use a lie to support a proposition then what credibility is that proposal?

The term "industrial action" has always seemed wrong to me. Wouldn't it be more appropriate to refer to it as "industrial inaction"?
Mick Cash goes spouting off again about compromising safety when that lie has long been debunked.
Also wasn't Mick recorded stating that the aim of the RMT is to bring down the government? If so why hasn't he been charged with treason?