Posted 6th November 2019 | 5 Comments
RMT to stage strikes through December on SWR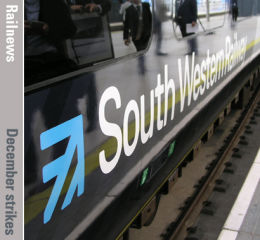 THE RMT has called its longest series of strikes yet since disputes over on-train staff and the role of guards first flared several years ago.
The union said its drivers and guards on South Western Railway will strike for 27 days next month, starting on 2 December and continuing until 11 December. The next wave of walkouts is to begin on 13 December and run until Christmas Eve, and the last sequence will be from 27 December to 1 January.
The union's general secretary Mick Cash said: 'Our members have been left with no choice but to call a further 27 days of strike action on South Western Railway.
'At the last meeting we held with SWR principles in agreements were made in good faith with the company's negotiating team and we now feel hugely let down again. As long as the company continues to refuse to give assurances on the future operational role of the guard we will remain in dispute.'
South Western Railway said it was 'extremely disappointed'.
A spokesman continued: 'The RMT has always said it wanted us to keep the guard on every train. That is what we have offered as part of a framework agreement if the RMT work with us to agree a method of operation for our new trains which fully utilises the new technology to improve safety, security and accessibility as well as day-to-day performance. Instead the RMT appear purely focused on keeping control of train doors in a misguided attempt to hold power over the industry.
'Whilst we have shown commitment to the role of the guard by introducing over 80 additional guard roles since the start of our franchise, the RMT do not have the long-term interests of either our customers or our colleagues, including their members, at the heart of their actions. We remain committed to finding a solution that will help us build a better railway for everyone. We will do everything we can to keep customers moving.'
Transport Focus chief executive Anthony Smith said: 'Yet more strikes are being dumped on passengers who may have to cancel Christmas holiday plans or endure miserable journeys to work. This dispute has dragged on for far too long and is damaging trust in the railway.
'Passengers have had enough of the on-going industrial action on South Western Railway services. They have faced lost time, money, more driving and deep frustration at not being able to rely on the trains.'
Reader Comments:
Views expressed in submitted comments are that of the author, and not necessarily shared by Railnews.
If the RMT leadership had any sense, and cared whatsoever about gaining any semblance of public support, they'd call off these strikes until at least a month after the new government takes power.
I suppose it's too late for back to work legislation, but what about calling out the army to act as guards during the strike? Seems a safer job than when they were called out to fight fires.
It's also long past time rail transport was declared an essential public service and mandatory arbitration used to resolve disputes.

DCO/DOO is safer than having 1930s working practices for ever. Recall the death of the 16 year old on Merseyrail a couple of years back. Also, the risk of miscommunication between driver and guard is removed.

These strikes have always been simply political. They are about the RMT retaining its power to punish rail passengers by walking out. They are about 'guards' having simple and pointless responsibilities instead of being customer-facing, collecting fares etc..

I hope SWR guards reject their Corbynista class-warrior RMT leaders, and turn into work. If they don't, they'll doubtless face a backlash from regular rail users, with contempt being shown to them in 2020. They will have brought this entirely on themselves by being seen to enjoy their lead up to xmas, while shafting the passengers who pay their wages.

Think hard, SWR guards.


The RMT (Rooted in Medieval Times?) generals are using their cannon-fodder (members) in a losing political battle against progress. It's obvious to anyone that this fight is all about the RMT maintaining the power to shut down the railways at will whenever they feel like it. Despite their cynical rantings this has NOTHING to do with safety as many studies, along with widespread usage, of driver controlled doors has show over the past several decades. With the length of these strikes, and if NOT calling strikes on December 12, 25 & 26 is some cynical ploy bu the RMT to qualify their members for holiday pay, maybe it's time for SWR to call a lockout until the RMT comes to their senses and moves into the 21st century. Though I'm sure many RMT members themselves have had enough of being used to fight a political battle, as well as losing a lot of wages, and will cross the picket lines.
Southern ended this by offering a new job position with the same wages & benefits and no loss of jobs and the RMT recommended their members accept and sign up (though not without spitefully calling further pointless strikes after that recommendation until the new contracts came into force). It's time SWR did the same and ended this farce.

We witnessed a passenger running to board a train as the doors were closing, he slipped and fell against the train. He was saved by the SWT guard who was still on the platform and delayed the train moving off to check the wellbeing and safety of the passenger.

Would the cameras, if looking into the sun and maybe on time lapse, have spotted this?