Posted 7th October 2019 | No Comments
Union steps up ticket office closures protest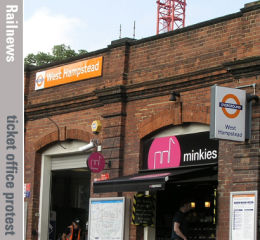 Updated 11.00

THE RMT is stepping up its campaign to prevent the closure of ticket offices at three London Overground stations, and a reduction in opening hours at 45 more.
According to the union, the ticket offices are set to close entirely at Brondesbury, White Hart Lane and West Hampstead, while another 45 will have their hours cut back, in some cases only opening during the morning peak on Mondays to Fridays.
There will be a day of action on Friday this week, which will involve a campaign of distributing leaflets at stations and sending postcards.
The protest will mirror a similar campaign last year, when the RMT succeeded in preventing the closure of 51 Overground ticket offices by encouraging passengers to send their objections to the Mayor of London.
RMT general secretary Mick Cash said: 'These plans to cut ticket office opening hours are about cutting costs and maximising profits and fly in the face of the Mayor's promise last year to keep the ticket offices open.
'We are launching a campaign this week to halt these ticket office closures to ensure that London Overground is safe, secure and accessible.
'RMT will be fighting to keep ticket offices fully open and oppose the proposed cuts and we expect the same widespread support from the travelling public that we had when fought to save ticket offices last year.'
TfL's director of rail and sponsored services Jonathan Fox said: 'We made clear back in the spring that, after listening closely to the views of Londoners, ticket offices on London Overground will remain open during the times of day when customers need them most.
'The busiest will continue to operate the same hours as they do now. At quieter stations, ticket offices will be open a minimum of 0730-1000 Monday to Friday, and longer where there is demand. Only one station that currently has a ticket office will not have one in the future owing to the space being required for the much-needed installation of a lift. For the RMT to suggest otherwise is untrue.
'All London Overground stations will continue to be staffed from 15 minutes before the first train to 15 minutes after the last, ensuring they remain safe and secure for our customers.'