Posted 25th September 2019 | 3 Comments
Third open train doors error in just over a year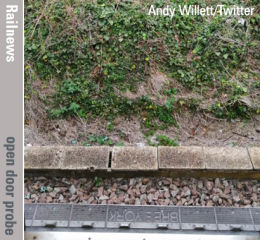 THE Rail Accident Investigation Branch has been notified of another incident of doors being opened wrongly – the third in just over a year. In this case several passengers jumped down on to the line, because the doors involved were not next to a platform.
This incident was reported at Hockley in Essex on 23 September, on the 17.10 Greater Anglia service from Southend Victoria to London Liverpool Street.
Witness Andy Willett tweeted that the 'train stopped short of the platform and doors opened. No one could get off and then we left the platform to the next station. The doors [had] opened and I shut them again, because although not obvious there was about a 5ft drop on to the tracks. The next carriage doors opened above the footbridge. This could have been so much worse had there been a visually impaired passenger awaiting to disembark. There were passengers genuinely becoming distressed. When it looked like the same was about to happen at Rayleigh people began to rush to the front of the train.'
Another witness on the train added: 'I was on this train. It was a 12 carriage and it stopped at the four carriage stop. I saw several young people jump down further back along the train and walk along the track.'
Greater Anglia thanked the passengers who reported the incident and apologised, saying it had started an investigation.
There was a similar incident on a Greater Anglia train just over a month ago, when on 22 August a passenger on a train from Liverpool Street to Southend Victoria reported to the driver that a door was open on the non-platform side, also at Hockley. The RAIB has said that 'the door had been open in traffic for about 23 minutes, while the train travelled 16 miles (26km) at speeds of up to around 80mph (128km/h)'.
A train had previously travelled between surface stations with some doors open on the Jubilee Line of London Underground on 1 September last year. The RAIB concluded that the driver involved had inadvertently isolated the interlocking which would normally prevent a train being moved with doors open. It has since reported that 'a combination of fatigue and low blood sugar may have been behind the failure to make sure all the doors were closed.' It added that 'poor training could have been another factor', and made several recommendations in July this year.
Reader Comments:
Views expressed in submitted comments are that of the author, and not necessarily shared by Railnews.
The doors on the Class 321s also doesn't shut properly and it holds up trains and delaying services as the Class 321s are over 30 years old. I'll be very happy when the Class 720 Aventra trains is scheduled to come into service from Spring/Summer 2020.

Fatigue and low blood sugar? That has got to be a joke surely?
[www.gov.uk/raib-reports/report-06-2019-train-travelling-with-doors-open-on-the-jubilee-line -- Ed.]