Posted 5th September 2019 | 1 Comment
5 September: news in brief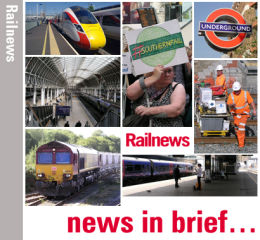 Second open door incident recorded by RAIB
A DOOR on a Greater Anglia suburban train was left open for 23 minutes during a journey in which the speed was as high as 80mph (128km/h), it has emerged. No one was hurt in the incident, which occurred early on 22 August on the London Liverpool Street to Southend Victoria line. The open door was reported by a passenger when the train called at Hockley at 07.20, and the unit concerned was taken out of service. Greater Anglia commercial and customer service director Martin Moran said: 'Safety is our highest priority. We immediately took the train out of service when this happened and carried out our own investigation into the incident. We have also carried out checks on every single door on that type of train that we have. No-one was injured in this incident and there have been no further incidents since.' The RAIB has also been investigating, and a Safety Digest will be published later. It was the second incident of its type on less than a year. A London Underground train left Finchley Road station with ten sets of doors open on 1 September last year, after the driver had tried to rectify a technical fault but inadvertently isolated a door interlocking circuit.
Recorded railway crime up by 12 per cent in one year
FIGURES released by British Transport Police show that recorded crime is rising on the railway, which BTP says is partly because more people are using trains, while the increases in station trading, including larger retail areas, mean that shoplifting is now becoming increasingly common on railway property. Other common categories include theft of luggage or other items belonging to passengers and also anti-social behaviour. The force recorded 68,313 notifiable crimes in 2018-19, up 12 per cent from the 2017-18 total of 60,867. Deputy Chief Constable Adrian Hanstock said: 'Despite this increase, when put into context it is important to remember that the chance of becoming a victim of crime on the railway is very low.'
Reader Comments:
Views expressed in submitted comments are that of the author, and not necessarily shared by Railnews.