Posted 4th September 2018 | 2 Comments
TfL launches inquiry after 'open doors' incident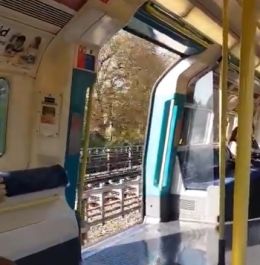 (Rory Brown)
AN inquiry has been launched after a London Underground train ran at normal line speed between two stations with at least some of its doors fully open.
The incident was recorded on video by a passenger and should also be visible on the train's CCTV. It occurred between Finchley Road and West Hampstead on the Jubilee Line, which is a surface section.
Passenger Rory Brown has posted his 14-second video on Twitter using the tag #whatishealthandsafety. He commented that this was TfL's "new way to keep tubes cool in the summer – leaving the doors open".
Transport for London apologised, and added: "We were made aware of this yesterday and the train was taken out of service and [is] currently under investigation so thanks for letting us know. Sorry for any inconvenience caused and hope your journey was OK."
The train involved was tube stock built by Alstom in 1996-97. Like many previous generations of Underground trains, 1996 stock is equipped with an interlock which should prevent the train moving unless all doors are closed.
Underground network operations director Nigel Holness told the Evening Standard: "The safety of our customers and staff is our top priority. On Saturday at around 09.00 we were alerted to some of the doors on a Jubilee train remaining open for one stop between Finchley Road and West Hampstead.
"The train was immediately taken out of service at West Hampstead and a full investigation is underway to understand how this occurred."
The Rail Accident Investigation Branch is also being informed.
Reader Comments:
Views expressed in submitted comments are that of the author, and not necessarily shared by Railnews.
Andrew Gwilt, I find it hard to believe that the driver wilfully failed to close the doors - as mentioned in the article a highly unusual combination of events needs to have taken place, because under normal operating modes, a tube train's motors are interlocked with the doors, meaning the motors cannot receive power without the doors being electrically proven closed.

Given that doors were open, the ATO should never have been able to start the train moving, even if the driver commanded it, plus it will be rote for a driver to push "close doors" and observe the closure before pushing "start".

It is more likely that the interlock system was isolated during maintenance, or following an incident, and was not restored to normal status either by the depot staff or the driver as part of their setup duties. If that is the case, perhaps procedures could include attaching a cover over the start button whenever such systems are isolated.

However only a decent investigation will resolve the question, so we should all be careful to not apportion blame before it is complete, and note that an organisational system failed here as much as any individuals.

I'm also surprised the choice was made to video the incident rather than pull the communications cord, which seems like the more sensible choice.

I think it might be the driver who hasn't closed the doors properly and left it open when the train is moving. Or it could be a technical problem with the doors that isn't closed. But yes it very dangerous and scary at the same time.