Posted 6th August 2019 | 5 Comments
6 August: news in brief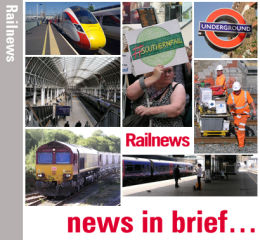 Second station funding boost for West Midlands
TWO stations in the West Midlands which were closed in January 1965 have moved a significant step closer to being reopened, with news of a £10 million grant from the Department for Transport. Darlaston and Willenhall were closed as part of the Beeching cutbacks, although the line itself between Wolverhampton and Walsall survived as a through route and was electrified as part of a wider upgrade in the region. It is the second grant towards restoring stations in the West Midlands in a few days. Last week the DfT announced £15 million towards reviving the stations at Moseley, Kings Heath and Hazelwell on the Camp Hill line. The West Midlands Combined Authority said the new contribution for Darlaston and Willenhall from the Department for Transport would be combined with other money from the region's HS2 Connectivity Fund. Birmingham City Council leader Councillor Ian Ward, who is also portfolio holder for transport on the Combined Authority, said the reopenings between Walsall and Wolverhampton 'will encourage growth in industry and jobs in the Black Country as well as better linking communities to opportunities elsewhere'.
ScotRail changes its mind about toilet charges
SCOTRAIL has reversed a decision to make toilets on its large stations free, after an assessment concluded that they would not be 'viable'. In fact, the charge at Aberdeen will be going up, from 30p to 50p. The decision is in contrast to Network Rail's policy, which has now abolished charges to use the toilets at all its managed stations in England and Scotland, including Edinburgh and Glasgow Central. Aberdeen Central MSP Kevin Stewart said: 'I'm absolutely appalled that ScotRail has backtracked on its previous statement that it would look to remove charges for the use of toilets. The fact that it is now committed to retaining their levy on loos, at an even greater cost to the public, is an utter disgrace.' ScotRail has been consulting other agencies within the industry, including British Transport Police. The operator said: 'After carrying out full safety assessments, gaining feedback from industry partners and assessing the long-term costs, it was established that removing charges was not a viable option.'
Reader Comments:
Views expressed in submitted comments are that of the author, and not necessarily shared by Railnews.
Stations like these should never have closed in the first place. When are they going to reconnect the many towns that they cut off completely?

The article says Scotrail consulted the BTP. Could the charge be considered a deterrent to vandalism and other unwanted behaviour?
[It appears so.--Ed.]

Bottom line is that Scotrail are a private company and if they don't make money from toilets it will need to be added to the ticket prices... I don't agree with this but it is the system we are stuck with... I suppose it could be written into a Franchise commitment next time round?
Martin

I find this strange.

I regularly travel to Ipswich to see the football and often use the toilet before going to the match.

The toilet is free and Abellio Greater Anglia keep it immaculate.