Posted 17th July 2019 | 2 Comments
17 July: news in brief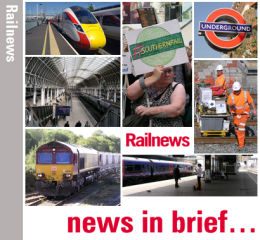 Govia Thameslink Railway fined £1 million after passenger was killed
GOVIA Thameslink Railway has been fined £1 million with £52,267 costs after the death of a passenger who put his head out of a train window. GTR had already pleaded guilty to one offence under the Health and Safety at Work etc. Act 1974 on 8 May. The prosecution was brought by the Office of Rail and Road after the death of 24-year-old Simon Brown on 7 August 2016. He had put his head out of a droplight window on a Class 442 train as it was passing through Balham, and a trackside gantry struck his head. The clearance between the train and the gantry was only 23cm. GTR immediately placed bars across the windows so that it was still possible to lower the window and open the door, but not possible for passengers' heads to be outside the carriage. The ORR's investigation revealed that there had been a similar incident in 2002, which resulted in enforcement action being taken against South Central Limited. The ORR told the court that the risks associated with droplight windows should have been identified by a suitable risk assessment, and control measures introduced accordingly. However, GTR failed to take the appropriate action. ORR director of safety and chief inspector of railways Ian Prosser said: 'There are still some trains with droplight windows and we have written to operators instructing them to take immediate action to prevent a similar tragedy happening again.'
Three Saturday strikes set to go ahead on East Midlands
STAFF at East Midlands Trains are set to walk out on the next three Saturdays in a dispute over what the RMT describes as 'pay discrimination and contract issues'. The first strike will be staged this week, on 20 July. The staff who have been called out on the 24-hour strikes are senior conductors, and services on some EMT routes will be disrupted. EMT said its main line trains will run normally, and that trains will also continue to run on 'the majority of local routes'. Lines which will be affected by various cancellations, replaced only in some cases by rail replacement buses, are Derby-Matlock, Liverpool Lime Street-Nottingham, Nottingham-Mansfield Woodhouse, Doncaster-Lincoln/Peterborough, Lincoln-Grimsby/Cleethorpes, Leicester-Nottingham, Derby-Nottingham/Newark Castle, Nottingham-Norwich and Newark Northgate-Lincoln. The RMT said its dispute was 'over EMT's management's failure to bring a meaningful resolution to RMT members' concerns'. EMT said: 'We're disappointed that the RMT is intent on going ahead. The fact is the union have raised issues about contracts which have been in place for six years, and which were introduced with their full agreement.'
HS2 petitions invited after Crewe section Bill passes Third Reading
PEOPLE who wish to petition Parliament in connection with HS2 between the West Midlands and Crewe have from today until 13.00 on 16 August to make their views known, after the Bill to authorise the 59.5km Phase 2a was read for the first time in the House of Lords yesterday. A day earlier, the Bill passed its Third Reading in the House of Commons by 263 votes to 17. During the debate before the vote, HS2 minister Nusrat Ghani told MPs that 'Even though there have been some strong speeches from Members who have HS2 running through their patches—obviously they defend their patches and constituents—we have heard too about the transformative nature of HS2. There is no denying that HS2 is a large infrastructure project—it is the largest of its kind in Europe—but it is also absolutely key as it links up eight of our 10 great cities.' A few determined opponents of the scheme also repeated their objections. MP for Stone Sir William Cash said: 'The legislation needs to be repealed. I say, with respect to Ministers, that it is disgraceful that, in the dying days of this Administration, this Bill should complete its procedure when it has been so severely criticised by so many reports. This should have been deferred until the review, promised by one of the candidates for the Conservative leadership who I hope will become Prime Minister, has had the opportunity to grapple with the terrible anxieties and difficulties that have been inflicted on my constituents.' The Bill's endorsement by MPs has been welcomed by Midlands Connect director Maria Machancoses. She said: 'The vote sends a strong message to the next Prime Minister that political support for HS2 remains strong, and whoever replaces Theresa May in Downing Street next week must commit to the project unequivocally.'
Union wins recognition on Elizabeth Line
THE TSSA said it was 'delighted' to have signed a union recognition agreement with MTR Crossrail, the future operator of the Elizabeth Line, for management grade staff. The union's general sceretary Manuel Cortes said: 'We are talking about union recognition for dozens of senior people – management grade staff – which means that now almost every person working for MTR Crossrail will be covered by collective bargaining.' MTR Crossrail currently operates local services from London Paddington and London Liverpool Street under the temporary brand of TfL Rail. These routes to Heathrow Terminal 4 and Shenfield will eventually become part of the Elizabeth Line across London, although this may not open before 2021.
Reader Comments:
Views expressed in submitted comments are that of the author, and not necessarily shared by Railnews.
Looks like Bill Cash doesn't believe in Parliamentary Democracy given how HS2 has always gained massive majorities for each stage under both Labour , Coalition and Conservative Governments with no votes usually less than 30 and only 17 in this case !

Is Bill Cash saying there will be a General Election given his comments re " dying days of this Administration!?" .

Anyway , HS2 is legislation that even if an election occurs simply rolls over to the next government and legislation for Stage 1 is passed with construction underway !