Posted 3rd July 2019 | 6 Comments
New concern over air pollution at large stations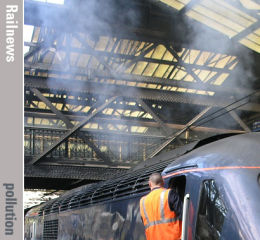 THE problem of diesel fumes polluting the atmosphere of larger stations has been highlighted by a new report based on research by scientists at King's College London and Edinburgh University.
Their conclusions include findings that the level of nitrogen dioxide, or NO2, inside London King's Cross and Edinburgh exceeded the annual limits allowed by EU law in only two weeks.
The report said: 'A strong positive association' was observed between the number of diesel trains and the concentration of the gas. NO2 irritates the eyes, nose and throat and may cause breathing problems.
It added that the quality of the air inside both London King's Cross and Edinburgh was the same as would be expected when 'standing close to a very heavily trafficked road in a city centre'.
Average levels of toxic particulate matter were also higher inside the stations than outside, although these levels were within legal limits.
It is not the first time that concerns have been voiced about the pollution caused by diesel trains, because their fumes tend to become concentrated at busy stations with many diesel services and an overhead roof.
In 2012 the World Health Organization International Agency for Research on Cancer said diesel engine exhaust and related air pollution was responsible for more deaths from lung cancer than had been previously thought, while the campaigning group Friends of the Earth says air pollution has been linked to up to 36,000 premature deaths a year.
The proportion of diesel trains is higher at Edinburgh than London, because the suburban services using King's Cross are all electric. The main East Coast intercity services at both stations are mostly electric, apart from the relatively small number of HSTs. King's Cross is also the terminus of diesel-operated open access services.
Network Rail said: 'Rail is the greenest way of moving people and goods in large numbers, but there is still much more we can do as an industry. We recognise diesel exhaust emissions as an emerging issue at some of our managed stations and have commissioned research to improve our understanding, and inform the actions we are already taking and intend to take in future.'
Reader Comments:
Views expressed in submitted comments are that of the author, and not necessarily shared by Railnews.
I recall many years ago (back in the 1970s or 80s), a colleague telling me about a study, which reported a "hot-spot" of cancer cases amongst people living and working in the vicinity of Edinburgh Waverley. So really, this research is not new.

Meantime, the level of pollution at Birmingham New Street probably exceeds both Edinburgh and London. There is far less headroom, and Cross Country diesels sit for ten minutes of timetabled time with all engines running. There are at least eight of these each hour, north and southbound, with several local services using diesel as well, and Transport For Wales' hourly stops each way. Fans have been introduced to generate airflow - but they don't work. The fumes seep up to the main concourse as well. This is criminal behaviour in my view. .

Meanwhile failing grayling has banned further elctrification

Back in the 1950's/60's, a selling point of dieselisation over steam was the ability of diesel power to switch off whilst standing out of service in stations. Yet nowadays, diesel engines are left running for , in some cases , 20 or 30 minutes. Not only a pollution problem but also a source of noise that blots out PA announcements.

The new Platform 0 at King's Cross has less headroom above the tracks than in the main station. A notice to drivers states that no diesel trains should use this platform, however I have often been on a diesel HST that has used platform 0.