Posted 7th June 2019 | No Comments
Southeastern deal unresolved as deadline approaches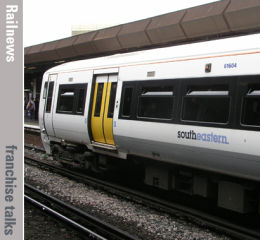 THE Department for Transport remains locked in talks with Govia over another extension to the Southeastern franchise, barely two weeks before the present contract is due to end.
It was in June 2017 that the DfT announced that four bidders had been shortlisted for South Eastern. They were Govia, Stagecoach, Trenitalia and a consortium of Abellio, East Japan Railway and Mitsui. However, Trenitalia withdrew from the competition two months later to concentrate on East Midlands and West Coast Partnership. In November 2017, the DfT issued the Invitation to Tender to the three surviving bidders.
The DfT has paused the competition since then, partly because of the uncertainty over the future of franchising which has already been made clear by Keith Williams, who is conducting a 'root and branch' review of the railway industry.
Transport secretary Chris Grayling announced on 10 April that 'my department is negotiating a short-term extension to the current franchise agreement with Govia while we make a decision on the competition'.
Both sides began talking soon afterwards, hoping to find common ground for an extension to November this year at least, and possibly until April 2020. But unless something changes, Govia is set to leave at 02.00 on Sunday 23 June, leaving the DfT to take over.
The situation is made more difficult by the fact that it was also on 10 April that Mr Grayling had ruled the Stagecoach bid for South Eastern 'non-compliant' over clauses dealing with pensions risk. Stagecoach is already suing the Department over similar decisions which affected its bids for East Midlands Trains and West Coast Partnership.
Time to retrieve the present Southeastern franchise is running out rapidly, and the DfT renamed one of its standby 'operator of last resort' companies 'SE Trains' on 22 May.
A spokesman for the DfT told Railnews that did not mean the talks were expected to fail, but simply that the DfT was complying with its legal duty to ensure that whatever happened, trains would still be running on the morning of 23 June. The official line is that negotiations are continuing.