Posted 7th June 2019 | 3 Comments
7 June: news in brief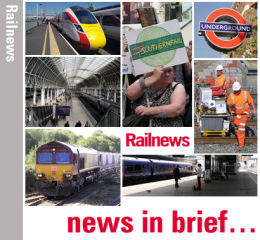 Frankenstein
A second rail union has called for privatisation to be reversed in the wake of a Transport Focus survey of how much passengers trust the railway industry, which left Southern trailing the list. However, the percentage of users who do trust Southern has risen from 17 per cent to 22 per cent.
Even so, TSSA general secretary Manuel Cortes has called for transport minister Chris Grayling to be sacked. Mr Cortes said: 'Passengers have given private train operators an overwhelming vote of no-confidence. Sadly, as Chris Grayling is all about failure, he probably thinks that rail users have never had it so good. The man masquerading as transport secretary seems to live in a parallel universe whilst the rest of us have to live with the reality of his incompetence. Grayling should be sent packing along with the terrible Tories and their Frankenstein privatisation experiment. They have created a monster.'
The RMT has already pointed to the survey results as an example of why privatisation is not working. Go-Ahead Group, which is the majority partner in Southern's owner Govia, has issued an upbeat financial summary in which it said Southern was now seeing 'continued improvements' in performance.
Just in case
The Department for Transport has renamed one of its standby 'operator of last resort' companies in apparent preparation for Govia's Southeastern franchise to be terminated. Updated Companies House records reveal that 'DFT OLR2 LIMITED' was renamed 'SE TRAINS LIMITED' on 22 May.
The Southeastern contract has been extended several times but discussions about further extensions are underway with the DfT, and Southeastern said it was possible that it could now continue until April 2020. Go-Ahead pointed out that 'Southeastern remains the best performing large UK train franchise, with the highest levels of punctuality in its history.'
(For more, including DfT reaction, see later report 'Southeastern deal unresolved as deadline approaches'.)
Beeching in reverse
Former transport secretary Andrew Adonis has called on the government to reopen railways and stations serving 27 larger towns which were closed following the Beeching 'reshaping' report of 1963.
Lord Adonis, who is also a former head of the National Infrastructure Commission, has called for a national programme to 'reverse Beeching' in a speech to the Institute for Public Policy Research. He is proposing a policy of systematically reconnecting these large towns to the railway system over the next 25 years, and has set out the key elements of a 'Reverse Beeching' plan, including practicalities, timescales, and finances.
His title 'Reshaping Britain's Railways for the 21st Century' echoes that of Beeching's 1963 report 'Reshaping British Railways.'
Over one million people live in the 27 biggest towns without a railway station, including Gosport, Dudley, Newcastle under Lyme, Washington, Waterlooville, Halesowen, Leigh, West Bridgford, Skelmersdale, Blyth, Dunstable, Woodley, Coalville, Abingdon, Swadlincote, Wisbech, Rushden, Darlastan, Ashington, Witney, Haverhill, Aldridge, Ferndown, Kingswinford and Daventry.

(updated 7 June 15.50)


Reader Comments:
Views expressed in submitted comments are that of the author, and not necessarily shared by Railnews.
As far as Beeching is concerned, yes, some of the closures were doubtful, especially with regard to the possible alternative of "mothballing"some lines rather than outright closure.

But his real positive legacy was the insight that the railway should, in the modern world, concentrate on what it does best, rather than trying to be an "all things to all people" common carrier , something we should keep in mind some 50 years on.

Beeching gets a Bad Press. Loads of lines were closed after WW2** because they were so poorly patronised, long before Beeching took over. Many of the lines closed under the Beeching Report (ironically by a Labour Government) had very little customers and are now Heritage lines. Of the rest many have been totally built on and used as Roads, Housing and Industrial Estates. There are a few lines that could be re-opened and most are being actively assessed at this moment (eg The Borders Railway)
[**The rate of closures between 1945 and 1960 was an average of 160km a year. After Beeching in 1963, the rate increased over the following ten years to 910km a year.--Editor.]