Posted 3rd April 2019 | No Comments
Union says railway Brexit protests are acts of 'sabotage'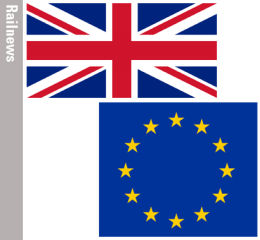 The TSSA union says it is seeking a meeting with Eurostar to discuss rail safety measures amid escalating Brexit tensions which have seen railways become a target for protestors.
One demonstrator interrupted HS1 services for 12 hours at the start of the weekend, and concern has grown since it was revealed that track circuit clips had been placed on two lines in late March, apparently as acts of protest at the way the government and MPs are managing Brexit.
TSSA general secretary Manuel Cortes is calling for 'extra vigilance' after a man was charged over a protest near St Pancras International, which interrupted Eurostar and Southeastern trains on HS1.
Meanwhile, British Transport Police detectives are investigating how track circuit clips became attached to railway lines in Cambridgeshire and Nottingham.
TSSA sources have suggested that one device with a 'Leave means Leave' message attached was intended as an April Fool joke. The clips are intended to protect stationary trains, and could have caused disruption.
Manuel Cortes said: 'Whether a prank or not, we are very concerned at reports that pro-Brexit supporters have accessed our rail infrastructure with the aim of causing delays and chaos.
'All station staff, especially at Eurostar, and British Transport Police need to be extra vigilant and bring to justice those responsible for these acts, which are frankly an act of sabotage that could easily escalate to an act of terrorism should the rail network become damaged or staff or passengers harmed.
'Getting on to rail tracks is both extremely dangerous and an offence. I appeal to those involved to desist before someone suffers a serious injury or a fatality.
'There are many other legitimate ways to protest over Brexit or any other issue.'