Posted 21st March 2019 | 3 Comments
First, Hitachi move ahead with East Coast open access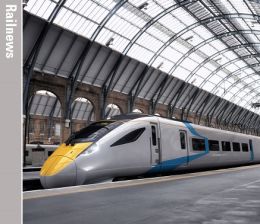 FIRSTGROUP'S plans to run budget-priced open access services on the East Coast Main Line have taken a major step forward with the order of five new trains from Hitachi.
The rolling stock deal, worth £100 million, involves train leasing company Beacon Rail.
The order is for five electric 5-car AT300 Hitachi sets, which will have a top speed of 125mph (200km/h) and be maintained by Hitachi for the first 10 years.
First has been developing its plans for London-Edinburgh services for the past four years. It was in March 2015 that the company first revealed that it was applying to the ORR for a licence to run the trains, and this was secured in April 2016. The company's aim is to encourage more air passengers to migrate to rail, which has about a third of the market at the moment.
Fares averaging 'less than £25' are being promised on board the single-class trains, which will offer catering and free WiFi.
First is planning to run five trains a day each way from 2021 between London King's Cross and Edinburgh, calling at Stevenage, Newcastle-upon-Tyne and Morpeth, with journey times of approximately four hours. The first service of the day from London will arrive in Edinburgh by 10.00, to attract business passengers who usually fly.
First Rail managing director Steve Montgomery said: 'We're excited to announce the next step to providing our high-quality low fare service for customers linking London and Edinburgh. There's a real gap in the market for truly affordable rail travel between the two capitals – our plans show we are serious about competing with low-cost airlines and opening up rail travel on this key route to thousands of new passengers.
'The new trains we are introducing will provide the highest level of comfort and service, whilst being great for the environment and air quality.'
Hitachi Rail Europe managing director Karen Boswell added: 'These trains have been designed to increase the number of seats available. Today's deal extends our long-term relationship with FirstGroup, who already use our pioneering intercity trains in other parts of the country to boost reliability and passenger satisfaction.'
Beacon Rail said it was 'delighted' to be financing the new fleet. Commercial director Rob Dee continued: 'We look forward to working closely with the Hitachi Rail Europe team to deliver a fantastic passenger experience, which will encourage passengers out of planes and on to trains, promoting sustainable travel.'
Reader Comments:
Views expressed in submitted comments are that of the author, and not necessarily shared by Railnews.
Up to now, the only prime intercity service with effective competition is London - Birmingham, between Virgin , London Northwestern and Chiltern .

It will be interesting to see how competing LNER and Firstgroup services on the ECML may turn out, especially for passengers. Also, it is interesting to see Firstgroup targetting a particular segment of the passenger market, rather than trying to run a "like for like / across the board" approach to competition.

For a four hour journey, I hope they have better seats than the IETs used by GWR.