Posted 25th February 2019 | 2 Comments
Network Rail launches sale of Cardiff Valley Lines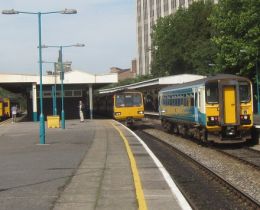 Cardiff Queen Street
EXCLUSIVE
Network Rail has launched the process of selling the 137km of Valley Lines routes in south Wales to the Welsh Government.
The proposed deal, which has been notified to key people in the railway industry, is the first sale of its kind since Railtrack was created in 1994.
When it has gone through, the Valley Lines network, including Cardiff Queen Street station, will be outside the control or responsibility of Network Rail, in the same way that Transport for London already owns and maintains some 400km of railways.
A one-month consultation started on Friday (22 February), and the proposed sale date is 22 September, with completion of the handover due to follow in March next year.
The transaction is expected to require the approval of the Office of Rail and Road.
The Valleys network is to be modernised and electrified to become a core element in the South Wales Metro. It will be controlled from a separate signalling centre at Taffs Well, where a new depot is also being built.
The lines are being sold on a freehold basis, including buildings and operational assets.
The routes are Cardiff Bay via Cardiff Queen Street to Rhymney and Coryton plus the routes from Cardiff Queen Street North Junction to Merthyr Tydfil, Aberdare and Treherbert, plus the freight lines to Hirwaun and Cwmbargoed.
After the handover it would still be possible for services to run through from Network Rail infrastructure, such as local services from Cardiff Central.
The sale comes after repeated calls for Network Rail north of the border to be devolved to the Scottish Government, and it has also come before Keith Williams has had the time to complete his DfT-sponsored review into the future structure, ownership and operation of rail services in Britain.
Reader Comments:
Views expressed in submitted comments are that of the author, and not necessarily shared by Railnews.
Will the Welsh Government provide better rail services across Wales if they were to take over the whole railway network that Network Rail occupies. I mean its good on what the Welsh Government are doing. And perhaps maintain the entire railway network in Wales for people travelling on TfW Rail. Along with brand new rolling stocks being ordered. That will replace the Pacer trains operated in North Wales, Mid Wales and South Wales.

Can someone post a link to the NR consultation documentation referred to in the article as i've failed to find it online.
[Unlikely, I'm afraid. We would have provided the link if we could. There has been no press release about this, and it's probably an internal industry consultation, not a public one.--Ed.]