Posted 16th January 2019 | 6 Comments
TfL 'pushing hard' to get new trains for Barking line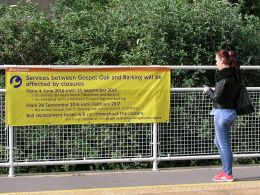 SOME of the first trains ordered for London Overground more than a decade ago could soon be running on the Gospel Oak to Barking line, as the timetable for introducing new units remains blurred.
Electrification of the route was affected by a number of problems. The work started in June 2016 but was not complete until January last year, and the introduction of electric Bombardier Class 710 units should have followed within a couple of months, allowing the diesel Class 172 units to be progressively cascaded elsewhere.
Although the 710s have yet to enter service the cascades have now started, and two 172s have already moved to West Midlands Trains. The other six will stay with TfL until March at least, as their lease has been extended.
The delivery of the 710s has slipped repeatedly. Transport for London told Railnews: 'The delivery date has continued to be put back by Bombardier. We are pushing them hard.'
The line needs six daily diagrams, and so all the available 172s are used during the week. Weekend services have been reduced so that the units can be maintained on Saturdays and Sundays.
Meanwhile, at least one of the Class 378s built for the original Overground network in 2008 and 2009 is set to be drafted in as a temporary measure, and clearance tests have been under way since the turn of the year.
London Overground general manager Rory O'Neill said: 'We are sorry for the continuing delay to the introduction of the new fleet of trains on the Gospel Oak to Barking line. The manufacturer, Bombardier Transportation, have advised that they need more time for software development.
'We share our customers' frustration and continue to push Bombardier to do everything they can to allow us to bring the new electric trains into service as soon as possible. We are working with Arriva Rail London so that driver training can start as soon as the software issues are resolved.
'Given the continuing delays we are now exploring the option of modifying Class 378 trains for temporary use. There are a number of considerations that need to be resolved before we can confirm whether this is possible. We are testing a modified train on the line and expect to make a decision later this month. It would operate alongside the existing diesel trains.'
Railnews has invited Bombardier to comment.
Services on the 22km route across the north eastern London suburbs were badly disrupted on 11 January, when one of the six diesel units failed at Crouch Hill.
Reader Comments:
Views expressed in submitted comments are that of the author, and not necessarily shared by Railnews.
Bombardier seem to developing a reputation as the company that can't deliver on time, not even in their home country of Canada where huge delays in LRV delivery to Metrolinx for Toronto resulted in the TTC cutting their order from 182 vehicles to 76 (and ordering vehicles from Alstom), and the delivery of 14 similar vehicles to GranLinq for the Region Of Waterloo's as yet still non in service LRT line ran over 2 years behind schedule.

Grape vine evidence is that Bombardier took software out of the UK and concentrated it at a "Centre of Excellence" in Sweden. Now there's millions of poundsworth of unusable trains at Willesden, a lot of off work people waiting for the production line to restart in Derby & no-one in the UK to lean on.

"The other six will stay with TfL until March at least." Actually they're only keeping two until March. Two leave at the end of January and another two at the end of February. TFL don't want to use 317s (or 315s, which they are scrapping) because they don't have DOO cameras. Bombardier gave TFL £5million for late delivery.

Why can't London Overground transfer some of the Class 317s to operate on the Gospel Oak-Barking Line for short time. Before the Class 710s do eventually enter service that will replace the Class 172, Class 315 and Class 317 and to transfer some Class 378s to help with the capacity on the East London Line. With 5-Car Class 710s to be built for Euston-Watford DC, North London Line and West London Line services.

Be very interesting to see if Bombardier will be subject to any contract penalties for the late delivery of the of the 710's.

Sadly this isn't the first occasion when service continuity has been affected by a an artificial shortage in rolling stock caused by delayed delivery of new rolling stock and the expiration of the lease on existing stock. What is so disappointing in this instance is that there is a potential surplus of off lease or withdrawn emu's displaced from various adjacent commuter routes that could have provided a short term solution.