Posted 3rd January 2019 | No Comments
Shortage of staff blamed for SWR ticket office closures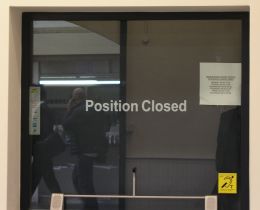 SOUTH Western Railway has defended its record over ticket offices, after an anonymous member of staff leaked a list of more than 20 stations where offices have been closed – sometimes for 'weeks on end'.
Micheldever was the worst affected between October and December according to the list, and was closed for five out of eight weeks.
Others have been closed for shorter periods during the day, including Farnborough (Main), Eastleigh and Southampton Airport Parkway. Other stations also affected by full-day closures have included Branksome, Christchurch, Hamworthy, Hook, Pokesdown, Sway, Winchester and Wool.
The RMT, which is opposed to ticket office closures, said in a message to its members that 'there seems to be a complete reluctance by the company to fill vacancies and a disregard by the company in fulfilling its franchise commitment'.
SWR has denied that it is 'reluctant' to fill vacancies, saying 'We know that recent changes in our station management teams have left the new south region temporarily short of relief staff.
'We are now in the process of recruiting new posts to address this. Additionally, we have experienced higher than usual staff turnover.'