Posted 3rd January 2019 | No Comments
'Quick thinking response' of BTP officers praised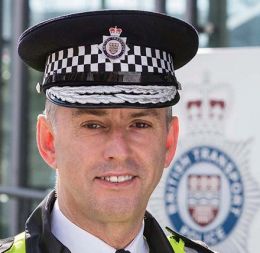 Chief Constable Paul Crowther
BTP Chief Constable Paul Crowther has praised the 'quick-thinking and outstanding response' of the BTP officers who intervened when a man brandished a 20cm kitchen knife on a tram platform in Manchester on New Year's Eve.
Sergeant Lee Valentine was stabbed when he and three fellow officers disabled the man at Manchester Victoria station shortly before 21.00. Two other people were also hurt, and a man has been detained under the Mental Health Act. Police also raided a house in the Cheetham Hill area of Manchester on 1 January.
Sergeant Valentine, whose injury is not thought to be serious, said: 'The past 48 hours have been overwhelming. My team and I are grateful to everyone who sent in messages of support – it really does mean the world to us. We had no idea what we were running towards when we heard the screams on New Year's Eve. When we saw the man wielding a knife, instinct took over and we were able to, in company with Travel Safe Officers from Metrolink, successfully detain the male.'
The Chief Constable has been speaking to the four officers who were the first to take action. Paul Crowther said: 'This horrific incident underlines the bravery of our officers, who selflessly ran towards danger to help keep the public safe.
'As the first officers on the scene, their quick-thinking and outstanding response helped to prevent more passengers being hurt and stands as a testament to the Force.
'Whilst this incident is an example of policing at its finest it also serves as a dark reminder of policing at its most dangerous. In their efforts to detain the suspect, one of our officers suffered a stab injury to his shoulder. I met the officer today, along with his colleagues, and I am both humbled and full of admiration at their tenacity and dedication.'
The 25-year old man involved is now in a secure medical facility, and may remain there for several months.