Posted 13th November 2018 | No Comments
Andrew Jones named as new rail minister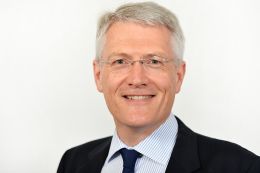 THE new rail minister is Andrew Jones, following the sudden departure of Jo Johnson at the end of last week.
Mr Johnson, whose brother is Boris Johnson, resigned in protest at the state of play over Brexit, saying that not to have a further public vote about leaving the European Union would be a 'democratic travesty'.
Mr Jones, whose formal title is Parliamentary Under Secretary of State, was previously parliamentary under secretary at the DfT between May 2015 and June 2017, although his responsibilities then did not include railways.
After the 2017 election he was moved to the Treasury, where he served as Exchequer Secretary from 15 June 2017 until 8 January 2018.
He was elected Conservative MP for Harrogate and Knaresborough in May 2010.
His return to the DfT has been welcomed by the Urban Transport Group, which represents the transport bodies in the seven largest cities outside London.
UTG chair Tobyn Hughes said: 'This comes at a crucial time for the rail industry, as the Government conducts its 'root and branch' review into the country's railways.
'Our network of cities had an excellent working relationship with Andrew Jones when he was previously a Transport Minister and he understands the rail issues that city regions face. We look forward to working with him once again and continuing to make the case for greater devolution of our rail networks so that they bring widespread benefits to the passengers and communities which they serve.'
Some railway matters remain with other ministers at the DfT.
Baroness Sugg continues to include transport security in her list of tasks, while Nusrat Ghani is responsible for HS2. Another new ministerial appointment, announced last night, is minister of state Jesse Norman, the MP for Hereford and South Herefordshire. His portfolio includes light rail.