Posted 28th September 2018 | 2 Comments
New app for passengers with disabilities is tested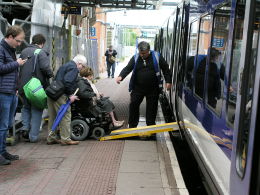 PASSENGERS with disabilities are set to have easier rail journeys, thank to a new smartphone app which is being tested by several operators. There are plans to introduce it nationwide later next year.
At the moment, passengers who need assistance must book online or by phone, when they are given contact details which are sent to staff at the relevant stations. This list is not flexible, and problems arise if the trains are late or there are other last minute changes.
With the app, passengers will be able to book, change and cancel assistance in real time.
Rail Delivery Group regional director Robert Nisbet said: 'A few taps of the app will give customers more control, help our people do their jobs better, and deliver on the commitment to enable more people to benefit from travelling by train.'
The current trials are taking place on West Midlands Railway, London Northwestern Railway, Greater Anglia, and South Western Railway.
Paralympian Anne Wafula-Strike, who has previously campaigned for better accessibility on the railway, said: 'Although passenger assistance usually works I've had awful experiences when it has failed, so it's great to see the rail industry addressing this and planning to change and improve for the benefit of disabled people. The app will make it so much easier to get assistance, and more importantly it will empower disabled people to travel without any fear. This is truly inclusion.'
Transport Focus chief executive Anthony Smith said: 'The application of technology to make travel easier by improving the reliability and responsiveness of passenger assistance is a welcome step. But for passengers to see the benefits of this, there will still need to be enough trained staff on hand in the right places to help as requested – and at short notice – to prevent unnecessary difficulties.'
Reader Comments:
Views expressed in submitted comments are that of the author, and not necessarily shared by Railnews.
My Wife has taken groups of disabled people (4 - 12 in the parties) in Wheelchairs to London, Bournemouth and Weston-Super-Mare recently. She speaks extremely highly of all the Staff who have helped her at Waterloo, Reading, Bournemouth and Weston. Always spot-on with the ramps at the right time and in the right place. However most trains have limited spaces for Wheelchairs and you really do have to book in advance, especially on popular routes. Maybe if you are on your own it wouldn't matter so much but with parties that need to stick together as much notice as possible should be given when booking tickets.