Posted 13th March 2015 | 1 Comment
Plans to scrap BTP in Scotland are 'premature'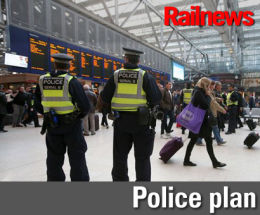 PLANS for Police Scotland to take over from British Transport Police north of the border have come under fire in some quarters, being described as 'sad' and 'premature', but the Scottish Government has issued a reassurance that BTP's special industry knowledge and skills will not be lost.
The BTP has been responsible for policing the Scottish network since it replaced the former railway company forces in the early 1950s, but under plans for devolution control could be handed over to Scotland's recently-integrated national police service.
Justice secretary Michael Matheson has adopted a recommendation of the Smith Commission , and talks are now under way between BTP, Police Scotland and other bodies about consequences of such a change.
Currently, British Transport Police receives the majority of its funding from train operators. It is not clear if this money will be transferred to Police Scotland.
A statement from the Scottish Government said: "Police Scotland is responsible for all policing in Scotland outwith the railways and we believe the functions of the British Transport Police should be integrated within the single service.
"The BTP provide a specialist function that is recognised and valued by the rail industry and its passengers and it is essential that this specialism is maintained within Police Scotland.
"This will ensure the most efficient and effective delivery of all policing in Scotland, keeping communities safe and strong".
But criticism of the move has come from Labour MP Tom Harris, who was responsible as a Westminster minister for the British Transport Police in 2007-08.
He said: "BTP is a long-standing and effective police force. It will be sad to see it merged with Police Scotland as part of a further centralisation of services.
"This move is premature. No-one has been consulted - neither the travelling public nor the police officers themselves. A hasty decision today could put at jeopardy the safety of the travelling public tomorrow."
There was also criticism of the move from Scottish Labour justice spokesman Hugh Henry, who said: "This is not what we agreed to in the Smith Agreement.
"We agreed the functions of the British Transport Police should be devolved with accountability to the Scottish Government and Scottish Parliament. We did not agree to the BTP being scrapped and services being delivered by Police Scotland.
"Dissolving the BTP into Police Scotland is yet another attempt to centralise services and reduce accountability."
Scottish Liberal Democrat leader Willie Rennie added: "Some people have argued that the Scottish Parliament should choose to keep the force as one single entity instead of integrating into Police Scotland.
"I think that is worthy of consideration. We need to have that debate. We need to consider this carefully rather than deciding now what the structure should be."
Reader Comments:
Views expressed in submitted comments are that of the author, and not necessarily shared by Railnews.