Posted 18th September 2018 | 2 Comments
Shortlisted bidders for Tyne & Wear fleet are named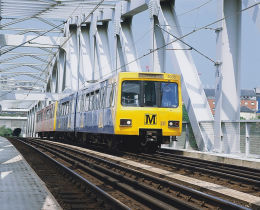 FIVE companies have been shortlisted to build a new fleet for Tyne & Wear Metro. The choice follows a selection questionnaire which was circulated within the rolling stock industry earlier this year.
The DfT has provided a grant of £337 million towards the capital cost of the fleet itself, which is estimated at £362 million, but the total value of the contract will be approximately £500 million when maintenance costs over 35 years are added.
The five shortlisted firms are Bombardier UK, CAF, Downer EDI Rail, Hitachi and Stadler. Downer EDI Rail Pty Ltd is a joint venture between Downer EDI Rail and CRRC Changchun Railway Vehicles Co. Three of the shortlisted companies – Bombardier, CAF and Hitachi – have train building/assembly factories in England or Wales.
Nexus will choose a preferred bidder by the end of 2019, and it is hoped that the first examples of the new fleet of 42 trains can be delivered two years after that. The new trains will replace units which by then will be more than 40 years old, having been built for the opening of the first Metro lines in 1980. The contract also includes a new maintenance depot at Gosforth, and all the new trains should be in service by 2024.
Nexus managing director Tobyn Hughes said: 'We have issued an Invitation to negotiate to five bidders who, between them, are building trains for many of the world's biggest cities and rail networks. This marks an important milestone as we work with them to provide an excellent Metro for North East England for decades to come.'
More than 3,000 Metro passengers had responded to a consultation about the details of the new fleet in 2016 and 2017, and Nexus used the results of this survey when drawing up detailed specifications for potential bidders.
Transport secretary Chris Grayling said: 'The Tyne and Wear Metro has been an essential part of the public transport network in the North East for 40 years. That is why the Government is committed to investing nearly £340 million to upgrade the fleet and secure its future for decades to come.'
The North East Local Enterprise Partnership is organising a supply chain event this autumn where the shortlisted bidders will have the opportunity to meet companies from North East England who could contribute to the construction and maintenance of the trains and depot.

Reader Comments:
Views expressed in submitted comments are that of the author, and not necessarily shared by Railnews.
I think it could be Bombardier, Hitachi, CAF or Stadler that might win the contract to manufacture the new metro stocks for the Tyne and Wear Metro. As Alstom and Siemens have pulled out of the deal.