Posted 3rd April 2017 | 1 Comment
Tyne & Wear Metro 'renationalised'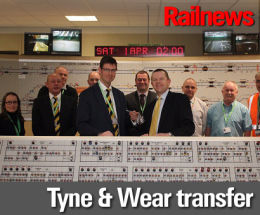 NEXUS has taken back direct operation of services on the Tyne and Wear Metro.
The operator DB Regio, owned by German Railways, which had run services on behalf of Nexus since April 2010, came to the end of its operating contract at 02.00 on 1 April, and Nexus will now be in charge until at least 2019.
Nexus had decided not to activate an option to extend the contract, saying "The current contract is not delivering the outcomes for passengers that either we or the operator wants to see."
Nexus managing director Tobyn Hughes, said: "I am looking forward to the next few years as we seek to improve Metro for our customers.
"The most important first step is to make sure that the transition is as smooth as possible for our employees and customers alike, with the trains continuing to operate safely throughout the process. Much hard work has already been done recently to improve train reliability and punctuality and that will continue.
"The next few years promise to be truly exciting as we look to secure funding for a new train fleet, and at ways to expand the network.
"The current fleet has served us well over the last four decades, but now is the right time for it to be replaced. We estimate a cost of around half a billion pounds to deliver the new trains that we need. We will know more about the fate of our bid over the summer.
"I would like to thank DB Regio for delivering Metro operations over the last seven years, along with all of the people who have worked on the Metro during that time. It has been a period during which we have together made unprecedented investment in the system and managed a number of unforeseen challenges."
The system was let to a private sector operator to meet the demands of the Department for Transport in 2008, which required privatisation in return for investment which at first totalled almost £300 million. By 2013 the DfT's funding support for modernisation had increased to £350 million.
The effective renationalisation of the Metro, which will be 40 years old in 2019, has been hailed by the RMT. General secretary Mick Cash said: "This is a massive victory for the union's on-going campaign for public ownership of our transport services.
"The union is demanding that there is no repeat of the privatisation mistake and that the Metro service is now permanently returned to the public sector."
The Metro is not the only light rail system to be returning to public control, because the West Midlands Combined Authority announced recently that it will not be reletting the concession to operate Midland Metro when the present contract with National Express expires next year. The Authority had calculated that the change will save taxpayers £50 million pounds by 2029.
Reader Comments:
Views expressed in submitted comments are that of the author, and not necessarily shared by Railnews.