Posted 10th August 2018 | 3 Comments
Wolverton, Springburn sold by Knorr-Bremse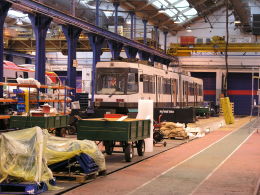 Wolverton at work, 2003
THE owners of two railway works in England and Scotland have sold the businesses to a German firm.
Staff have been told of the sales in workshop briefings, but few details have been given to them.
Knorr-Bremse said it is 'carrying out a strategic realignment of its vehicle services business in the UK market', which has prompted the sales of Wolverton and Springburn to Mutares, a company described as 'equity entrepreneurs'.
The news comes only a few days after the High Court confirmed that planning permission to demolish the existing buildings at Wolverton was valid, and rejected a case brought by Historic England. HE said the judgment had been 'very disappointing'.
Developers St Modwen are now set to go ahead with plans to build 375 houses at Wolverton but also a modern 'rail-connected facility'.
The leader of Milton Keynes Borough Council Peter Marland said 'the buildings are in a dangerous state and Historic England should work with St Modwen to preserve what's left as much as possible'.
He added: "Milton Keynes Council is responsible for making the decision on the Wolverton Works site, but we are not the land owner or applicant, and the Planning Committee needs to make decisions based on the law.
"The works are not just history. They still exist and we need to make sure they continue to exist into the future. Historic England have now failed in the High Court, they have failed with an application to the Secretary of State to 'call in' the decision and they have failed to engage constructively at all with reality."
In recent times, Wolverton has specialised in refurbishing former British Rail rolling stock, such as some of the former Thameslink Class 319 fleet, but this type of work is set to diminish as more new trains are delivered. Wolverton had also maintained the Royal Train vehicles for many years, but this can be done elsewhere. As a result, its future role in the rail industry is not clear.
The new owners are expected to take over before the end of the year. Mutares said its business is to 'invest in small and medium-sized companies that find themselves in special situations. By identifying potential for improvement, we improve those companies' prospects for long term success.'
Reader Comments:
Views expressed in submitted comments are that of the author, and not necessarily shared by Railnews.
Does any one have any idea what this means for the future of the wolverton site does this mean the site will be saved from the grips of the bulldozers.
If the they say there is potential for the companies to grow surly they would need the whole of the wolverton site.

So this means that a German firm is selling Wolverton anx Springburn to another German firm.