Posted 3rd August 2018 | 1 Comment
More South Western strikes loom after peace talks fail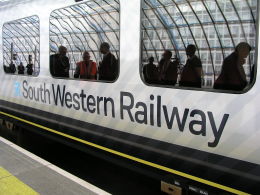 MORE disruption is expected on South Western Railway services tomorrow, after peace talks over the train-staffing dispute failed to resolve the argument over the role of a second crew member on trains.
A series of strike dates has been announced which stretch into early September. The first walkout was on 26 July and the fourth is set to take place tomorrow (Saturday 4 August).
South Western Railway said: "We are sorry that the RMT's unnecessary, damaging strikes continue to disrupt passengers' journeys as they try to get out and enjoy their summer.
"To try to put an end to this dispute, in talks this week we mirrored the wording of the agreement the RMT has reached with Greater Anglia. Frustratingly, the RMT has not accepted this agreement for our network, and should explain to South Western Railway passengers why what's a fair deal there isn't a fair deal here, and refuses to allow the flexibility to keep passengers moving during disruption, as it agreed with Greater Anglia.
"Again, we would like to make it completely clear that we will continue to roster a guard on all our trains – including our new suburban fleet to be introduced from late 2019, and that our future plans require more, not less guards.
"We will continue to provide as many additional services as possible on RMT strike days and thank all those employees who have helped keep our passengers moving despite the RMT action."
RMT general secretary Mick Cash said: "The statement from SWR does not represent what we were told when talks broke up. As far as RMT is concerned the talks process remains live and the company were going back to their bosses in Aberdeen and Hong Kong to consider the main outstanding issues on the guard guarantee and the union proposals for a resolution to the dispute.
"RMT remains available for further talks … we expect the company to be available as well and to adhere to the next stages of the process as agreed."
Similar disputes have existed with several other operators, including Greater Anglia, Merseyrail, Northern and Southern. The Northern dispute, in particular, remains unresolved and its services have been affected on 23 days so far. A planned stoppage on 21 July was cancelled to allow further talks.
Northern's latest statement is: "We have a commitment to introduce Driver Controlled Operation on parts of the Northern network. This is why we want to have meaningful talks with RMT to explore future staffing options on trains and stations. In some areas we may choose to staff more stations and in others, it could make sense to have more customer support on trains. These are the important, constructive discussions we want to have."
Reader Comments:
Views expressed in submitted comments are that of the author, and not necessarily shared by Railnews.