Posted 25th June 2018 | 6 Comments
East Coast rebranding 'costing £8m'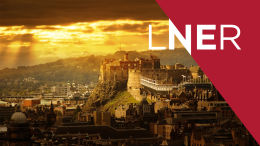 THE new DfT-owned operator LNER has taken over from Virgin Trains East Coast, after the customary changeover in the small hours of Sunday morning.
Managing director David Horne is staying, having fended off media criticism by explaining that he played no part in the bidding process for VTEC, and had no influence on the controversial premiums of £3.3 billion – or £2.2 billion at net present value in 2015 – which had been promised but proved to be unaffordable.
Publicity, rolling stock and digital information, including the operator's website, are being rebranded at a reported cost of £8 million.
The first train under the new management was the 07.54 from Newcastle to London King's Cross. This ran on time, but later services were delayed by a blockage of the line between London and Peterborough.
David Horne, who had joined VTEC from East Midlands Trains at the start of 2015 before the new franchise was started in March, said: "As LNER launches, our message to customers, employees and everyone who depends on this service is that it is business as usual.
"Existing tickets are valid for whenever customers plan to travel, new tickets can be bought in the same way and the same scheduled trains are in operation.
"As we go through the initial transition period we remain absolutely committed to running the high levels of service that customers have come to expect. It is the staff who underpin the customer experience on the East Coast, so we're delighted they have transferred with us and that customers can rely on seeing the same faces at their local station and on their usual train."
The government, which took several months to decide whether to accept a revised offer from Stagecoach and Virgin before rejecting it in favour of renationalisation, is taking an optimistic view.
Rail minister Jo Johnson said: "The launch of LNER is the first step towards the East Coast Partnership, which will bring track and train closer together on this historic railway."
The RMT is holding a demonstration in Edinburgh today, calling for the permanent renationalisation of Intercity East Coast services.
RMT general secretary Mick Cash said: "The protest in Edinburgh this morning, coinciding with our AGM in the City, is sending out the clearest possible message to Chris Grayling that the fight for public ownership of our railways is stepping up a notch.
"If you want to see the failures of Britain's privatised railway system writ large look no further than the East Coast Main Line where a succession of expensive corporate disasters have seen this crucial inter-city service lurch from crisis to crisis."
The next change is now planned for 2020, when a new form of public-private partnership is set to take over.
Reader Comments:
Views expressed in submitted comments are that of the author, and not necessarily shared by Railnews.
"Publicity, rolling stock and digital information, including the operator's website, are being rebranded at a reported cost of £8 million."

Yes, but the change has saved the cost of another expensive bidding procedure.

Might it not have been less costly to reuse the old brand of 'East Coast', from the last time the service was nationalised? Rather than rebranding, they could have 'debranded' it back to 2009.
[In the wild world of public relations and marketing, I suspect 'East Coast' is seen to be tainted. Using the same argument they could have called it British Rail (Eastern).--Editor.]

Surely RElaunch of LNER - no garter blue, apple or Doncaster green though!

We've already got a Southern & a GWR. Can we expect the next West Coast operator to be LMS so that we've got the set?


I've heard that the new Azuma trains that are coming in the next few months which is good news for train lovers, enthusiasts and for passengers who use the trains on the East Coast Main Line. That want to see them on the East Coast Main Line because it's fully air-conditioned and are to replace the current ones including the Class 43's and Class 91's Intercity fleets that have reached over 40 years old or nearly 40 years old.

As Great Western Railway have already started using their new IET trains on most services in & out of London Paddington that are replacing the Class 43's but GWR are to retain some on Cardiff-Cornwall service next year & throughout.

Deleted by moderator (Guidance Note 3).

It provides railway magazines with lots of new pictures of Old Trains in New Colours.
[But not for Railnews. Just one or two will be fine.--Editor.]