Posted 13th June 2018 | No Comments
Open access track charges set to rise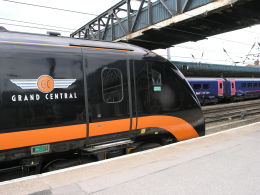 THE Rail Freight Group has broadly welcomed the new five year budget for Network Rail which has been announced by the Office of Rail and Road, but is less happy about an increase in track access charges for biomass cargoes.
New open access operators may be paying some fixed access charges for the first time, although this will depend on their revenues, said the ORR. Variable access charge increases for the rest of freight and passenger charter operators are to be capped.
The ORR has set out its 'initial view' of Network Rail's five year plans to spend more than £34 billion between 2019 and 2024, including an increased renewals budget of £18 billion, leaving some £16 billion for operations and maintenance.
The total is less than the £47.8 billion allocated by the Department for Transport in its Statement of Funds Available for Control Period 6, because enhancements such as electrification will be dealt with separately and monitored by the DfT.
Railway Industry Association policy director Peter Looseley said: "We understand that the £30 billion relating to Operations, Maintenance and Renewals expenditure for England and Wales is consistent with both the SoFA and Network Rail's Strategic Business Plans. It does not of course contain any provision for 'Hendy Tail' enhancements which we understood to constitute roughly £9 billion of the £47.8 billion SoFA and which is a matter for the Department for Transport.
"We are pleased however to see the ORR commitment to increased renewals expenditure and that they have included a commitment for Network Rail to review its spending profile to smooth rail investment over the five years of CP6. This is something the Railway Industry Association and its members have been calling for over many years."
The executive director of the Rail Freight Group Maggie Simpson said: "We are pleased that the Office of Rail and Road have listened to the significant concerns of rail freight customers and operators, and propose to limit the increase in freight charges over the next control period. Although we need to understand the detailed impact on different markets, this should provide a stable framework for the next five years. We are however disappointed that ORR have chosen to increase charges for biomass traffic.
"In the longer term, Network Rail must now deliver on its efficiency targets so that the potential for further price increases in CP7 is reduced."
Rail Delivery Group chief executive Paul Plummer said that the draft determination was "critical to ensuring that Network Rail, with its new devolved structure, can work more closely and effectively with train companies and the wider supply chain to deliver a more reliable, safe and efficient railway that customers, businesses, communities and the economy needs. The industry will continue to work closely with ORR until the final determination in October."