Posted 11th June 2018 | 3 Comments
Criticism of honour for Mark Carne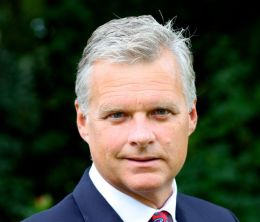 THE chief executive of Network Rail Mark Carne has been named as a CBE in the Queen's Birthday Honours list, but the news has come in the wake of serious disruption on Govia Thameslink Railway and Northern since new timetables were introduced on 20 May.
Critics have also been recalling a number of other unpopular developments including January's fare increases, which are not part of Mr Carne's responsibilities.
However, Network Rail infrastructure schemes have been running late, which is one reason given for the problems on Northern.
Some MPs have condemned the honour, such as Labour's Lisa Nandy, who represents Wigan. She said the CBE for Mr Carne, who leaves Network Rail this summer, was a 'total disgrace', while Lib Dem MP Tim Farron, whose constituency is Westmorland and Lonsdale, said: "Ask anyone who's tried to commute to work on a train recently and they'll tell you rail bosses need a kick up the bottom not a pat on the back."
Network Rail chairman Sir Peter Hendy agreed that the timing was 'difficult', but added: "We should take a step back and look at Mark's whole career and particularly his record over the past four-and-a-half years and recognise, as this award does, his tremendous contribution to our railway."
Mark Carne will be succeeded by Andrew Haines later this year. He is returning to the railway from his current post as chief executive of the Civil Aviation Authority.
Reader Comments:
Views expressed in submitted comments are that of the author, and not necessarily shared by Railnews.
Certainly not the best timing and as ever no matter how deserving the honours system remains decisive especially when perceived performance falls short of expectations for essentially doing the day job.

NR has certainly achieved a great deal while Mr Carne has been Chief Executive but it will be the engineering overruns and cost escalation that the last control period will be remembered for. Also the achievements have been the result of a great team effort not one individual.

To be fair to Mr Carne he was delt a poor hand which his predecessors, the DfT and it's ever changing ministerial cast and plue the ORR played their hand in undermining the credibility of the rail industry to deliver an on time on budget delivery of GW & NW electrification projects.

Only time will tell if Mr Carne has left a lasting legacy on the rail industry if NR's budget and project delivery is stabilised in the coming years. Fortunately his successor is a transport professional who may be able to get to the bottom of why project delivery costs have escalated so much and be able to take action to address this issue decisively.

For once I agree with the unions. This is like rewarding the captain of the Titanic for services to shipping.

I want Carne given a roasting by the Transport Select Committee. He has presided over 5 years of abject failure. He promises future transformation due to bimode trains and digital signalling. In reality both are substitutes for desperately needed extra infrastructure capacity that Network Rail under Carne and Hendy have spectacularly failed to deliver. NR now resort to pricing things off the agenda. (e.g. Portishead reopening).

Never has an organisation and its senior management needed a proper kick up the backside than Network Rail today.

Instead we see a CBE doled out to someone who should be shuffling out of the railway in disgrace.