Posted 7th June 2018 | 3 Comments
More stopgap Class 365s arrive in Scotland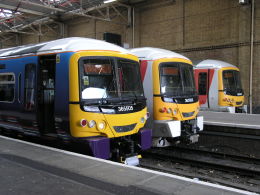 SCOTRAIL said it has secured an extra ten Class 365 electric units for the Edinburgh-Glasgow Queen Street route, where Hitachi Class 385s have yet to enter service because of visibility problems caused by the design of their curved windscreens.
Some Class 170 diesels previously used on the route have been cascaded to England as a result of leases coming to an end, and the 365s will help to compensate for their departure.
ScotRail said the 365s would 'enter passenger service in the coming weeks', but no date has yet been fixed for the arrival of the rectified 385s.
ScotRail Alliance managing director Alex Hynes said: "I am delighted that we have secured an extra ten electric trains to boost the number of seats available by 17,200 a day.
"Securing these extra trains has been made possible thanks to a lot of our people across the ScotRail Alliance working flat out in recent weeks.
"The coming months will see a transformation in Scotland's railway, and we can't wait for customers to feel the benefits. It's all part of our plan to build the best railway Scotland has ever had."
Reader Comments:
Views expressed in submitted comments are that of the author, and not necessarily shared by Railnews.
How the modern contract based railway makes a sensible move complicated.

Due to the lease contracts it was inevitable that the Class 170 diesel units were going to be transferred away irrespective of the introduction & availability of the class 385 electric units. That the surplus 365 units could not have been transferred directly to Scotland rather than heading to store at Ely raises questions as to how responsive the decision making process is in reacting to these situations. In the short term Scotrail customers have faced disrupted and probably over crowded journeys instead of reaping the benefits of the newly electrified route. Not the best introduction to a 'new' railway.

Recall a few years ago the loss of class 170 units from TPE to Chiltern caused a unit shortage affecting TPE/Northern routes that to this day is affecting services on the Cumbrian Coast Line with the stop gap & sub optimal loco hauled solution.

We are increasingly starting to live in a world of plenty as new rolling stock is ordered & delivered with each franchise renewal. Unfortunately many of the railway's customers are still to see the benefits while the industry players wrestle with contractual issues over the deployment of rolling stock.


At least the Class 365's are on hire for a short while. Whilst the remaining Class 365's are to be sent for storage and some to be retained by Great Northern to use them on London King's Cross-Peterborough & Cambridge Semi-Fast services.