Posted 31st May 2018 | 1 Comment
Tim O'Toole resigns from FirstGroup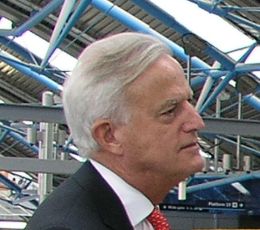 FIRSTGROUP chief executive Tim O'Toole has resigned this morning, as new financial results revealed that First's Transpennine Express franchise had made an operating loss of £6.5 million in the past year.
First is predicting worse to come: TPE could lose more than £106 million during the rest of the contract, which is due to end in 2023.

The head of First's Rail division Steve Montgomery told Railnews that Tim O'Toole's departure saddened him, but he emphasised that First was not poised to surrender the TPE franchise in the wake of the Virgin Trains East Coast collapse.

He said: "We are totally committed to Transpennine Express, but there are a number of factors at work which have changed the situation since we bid for TPE. They include lower than expected GDP and cheaper road fuel. The economic downturn has affected the outlook, which is why we are making provision for possible losses over the coming years of up to £106.3 million."

Within a couple of hours of the announcement early today, Steve Montgomery headed for Manchester to reassure TPE staff.

He said: "I am telling them that our commitment has not changed. That our new trains will increase the headroom for growth, and I believe there is still suppressed demand. That no jobs are at risk. It is business as usual."

He said that First's South Western Railway and Great Western Railway franchises are not affected in the same way as TPE and remain profitable. He added: "I am very sad to see Tim go. He achieved a great deal at FirstGroup."
Reader Comments:
Views expressed in submitted comments are that of the author, and not necessarily shared by Railnews.