Posted 26th May 2018 | 3 Comments
National Rail trains score heritage first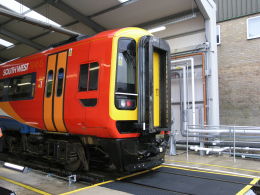 SCHEDULED National Rail trains are running on a heritage railway today for the first time.
South Western Railway is launching Saturday services to Corfe Castle on the Swanage Railway, and Corfe Castle has been restored to the national stations database.
Although heritage trains run on Network Rail infrastructure to Whitby and between Mallaig and Fort William, and many special charter trains have used heritage routes, previous attempts to extend regular National Rail services over heritage infrastructure have failed, sometimes because technical standards fall short or because paths have not been available.
The Swanage Railway has run connecting services to the main line at Wareham in recent years, but its trains currently terminate at Norden, which is one stop short of the junction.
SWR said the new services are a trial which will continue every Saturday until 8 September.
Chris Loder of SWR told Railnews: "The new link will not conflict with Swanage Railway services between Norden and Corfe Castle, and our trains will restore the Isle of Purbeck to the National Rail map again for the first time since 1972. The area becomes very congested with road traffic during the summer, and now we can offer an alternative for visitors."
The SWR trains will have to observe the customary speed limit of 25mph/40km/h which applies on heritage lines, but the distance between Worgret Junction on the main line and Corfe Castle is only about six miles (9.5km), so journey times will not be unacceptably long.
There will be three trains in each direction during the day, and although most will run between Wareham and Corfe Castle, the first service of the day will start from Basingstoke, and the final departure from Corfe Castle will continue to London Waterloo.
The trials may encourage similar ventures elsewhere in the light of experience. One proposal which is being discussed is an extension of GWR services to Bishops Lydeard, which is the first regular stop on the West Somerset Railway to Minehead, and where most heritage services terminate.
Reader Comments:
Views expressed in submitted comments are that of the author, and not necessarily shared by Railnews.
I was fortunate enough to travel on the first service train from Wareham to Corfe, changing for the steam service to Swanage. 25mph might seem slow for a class 159 set that usually nips along between Waterloo and Exeter, but it was about 24mph faster than the gridlocked traffic around the Wareham bypass. The connections worked very well, everybody on board seemed very happy with the new train.

I think it will provide a better journey for the local community to travel on South Western Railway from Corfe Castle to London Waterloo and with interchanges at Wareham, Southampton Central and Basingstoke. With some terminating at Basingstoke rather than terminating at Wareham or Southampton Central.

Thank you for reporting this 'Good News'. Hopefully this will be successful and other lines will soon welcome scheduled 'National' trains.