Posted 16th January 2018 | 6 Comments
Emerging vision for Northern Powerhouse rail unveiled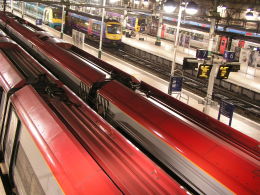 A PLAN to improve transport in the north of England has been unveiled today.
Transport for the North has published its strategic transport plan for consultation, identifying an 'emerging vision' for Northern Powerhouse Rail which includes a line connecting Liverpool with HS2 at Manchester, a new line between Manchester and Leeds, upgrades on the Hope Valley Line and upgrades for the existing routes from Leeds and Sheffield to Hull. Better access to Manchester Airport is also highlighted, along with multimodal hubs to improve the movement of goods.
TfN chairman John Cridley said: "Through its Industrial Strategy and Northern Powerhouse Strategy, the Government has made clear its commitment to the Northern economy. The size of the prize is simply too large to ignore for the future prosperity of the UK, and this Plan is our way of making sure that the £100 billion economic benefit and 850,000 jobs can happen."
The railway industry has welcomed the plans, although the CBI has sounded a warning that other regions also need to work with central government to make sure that they are not left behind.
Railway Industry Association chief executive Darren Caplan said: "These improvements are all vital in improving connectivity and spurring jobs and investment. Now, TfN – working alongside the Government and various industry partners – needs to develop the business case for these improvements so that we can start getting spades in the ground – in order for both the region and the country to feel the economic benefits as soon as possible."
CBI managing director for infrastructure and people Neil Carberry added: "The publication of Transport for the North's Strategic Transport Plan is a significant milestone in delivering the infrastructure that is needed to boost productivity across the whole of the north. Their plans for improved connections between the towns, cities and economic centres that will drive long-term growth, reflect many of the priorities highlighted by businesses in the north.
"Reaching this stage is a testament to the hard work and collaboration of elected and business leaders, who will be looking to see progress continue at pace.
"It is now for other areas and central government to work together to ensure that no region is left behind by the regional growth agenda."
Reader Comments:
Views expressed in submitted comments are that of the author, and not necessarily shared by Railnews.
All sounds good, just concerned that it's going to take decades before any of this is up and running. Improved links between Leeds and Sheffield (preferably using HS2 in some way) would also be welcome.

A vision or strategy for the future is fine but given the failed promises of delivery what is immediately required is a commitment to complete what was previously agreed. As completion of the initial North West Triangle of electrification has been repeatedly delayed there is still great uncertainty as to what will happen with the core Trans Pennine route - a project that should have been well on the way to completion by now.

In turn there are plenty of opportunities for fill in electrification on both sides of the Pennines that would surely benefit from the glut of soon to be available & cheap EMU's planned to be returned to the ROSCO's from southern franchises. Then again that would require a coherent national strategy that increasingly appears to be absent from transport planning at the DfT.

The one thing which appears to be missing from this Programme is electrification, especially of Trans-Pennine and Leeds to Hull and Middlesbrough. This means that the Plan is vastly imperfect. Clearly the Government in the person of Mr Grayling will need great convincing of the future of electrification in England after the Great Western fiasco: this does not mean that the job of convincing him should not be started - NOW!!

As far as I know, although the only improvement north of York is an upgrade to the East Coast Main Line, as far as I'm aware, they really mean business here. If I recall correctly, previous TfN documents have a target of 60 minutes Newcastle to Leeds, which would require considerable work north of York. Improving the East Durham Line as a diversionary route is also in this document, and extra platforms at Darlington has been on the cards for some time.

Concerning the Leamside Line, I get the impression that the deadlock there is not over whether the line should be re-opened - pretty much everyone says it should - but what it's opened for. The Leamside Line could be a Metro extension to Washington, or a freight line, or a fast line for non-stop passenger services, but it certainly can't be all three at once. My vote is for Metro first, freight second, but all I really want is a decision.

But I would be a lot happier if TfN could be more specific about what their plans for the ECML are. At the moment, it's too easy to back-pedal and scale it down to Liverpool-Leeds.

According to another report, TfN will not have the same financial powers that TfL has. It will not be allowed to generate its own finances but will instead have to approach central government for funding in addition to working with the private sector which is no different to the current situation. I was under the impression that devolution would have meant TfN had powers to raise its own finances to fund its wish list of projects, though I may be wrong. If this is the case it would seem that TfN are not much more than a reinvented 'Northern Way' which had also developed a plan to improve transport, including rail across the northern region several years ago.

By the looks of this report the nothing major seems to be planned above Leeds so it looks like it should be classed as the Midlands power house what about the Leamside line electrifying the coast line Newcastle to Middlesbrough today a freight train has derailed outside of Sunderland so rail just stops its totally out of order reopen lines up here give us a better transport system stop the talking and lets have some action soon.