Posted 22nd May 2018 | No Comments
Industry welcomes new Network Rail chief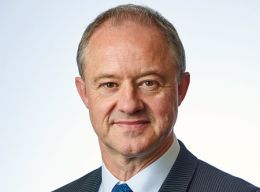 THE successor to Mark Carne as chief executive of Network Rail has been named as Andrew Haines, who is returning to the rail industry from his present role as chief executive of the Civil Aviation Authority.
Network Rail chairman Sir Peter Hendy said: "I am absolutely delighted to announce Andrew's appointment today. He was the most outstanding candidate in a highly competitive appointment process. Andrew's broad experience of rail and transport, and his reputation for relentless delivery and improvement makes him the ideal candidate to carry on with the transformation of Network Rail that has been led by Mark Carne. Britain's railways are crucial for Britain's prosperity: connecting people with jobs, goods with markets, and stimulating new housing and economic growth.
"Andrew will drive delivery of the railway improvements set out in the strategic business plan for 2019/2024, ensuring Network Rail's continuing focus on safety, performance and cost effectiveness."
Sir Peter added, "Mark has been exceptional in his personal leadership of the delivery of the biggest ever upgrade programme in the railway's history, and ensuring that Network Rail has focused on delivering for passengers, freight and the public. His focus on devolution and empowering people has transformed safety and the performance culture of the organisation. Mark leaves a significant legacy for Andrew to build on."
The news has been welcomed around the industry.
Railway Industry Association chief executive Darren Caplan said: "Andrew will preside over one of the most intensely used railway networks in Europe, with one of the best safety records and – despite often unbalanced reporting – growing levels of passenger satisfaction. We look forward to Andrew being a strong advocate of a sustainable rail supply chain and that Network Rail works with the supply sector to ensure the very best for those that use the rail network, and for taxpayers too."
Before he joined the CAA, Andrew Haines had been managing director of South West Trains before he moved to FirstGroup to lead its Rail Division.
He will be joining Network Rail this autumn, a few months before the start of CP6 in April next year. He will be responsible for continuing the devolution of the company and also helping to manage the government's strategy of involving more private sector investment in rail projects.
Rail Delivery Group chairman Chris Burchell said: "RDG welcomes the appointment of Andrew Haines at a time when strong and progressive leadership of the company is vital.
"Operators and the supply chain look forward to working collaboratively over the next few years with Andrew to tackle our shared, customer-focused agenda of improving reliability, efficiency and capacity of our railway, through a transformed Network Rail."