Posted 2nd May 2018 | 2 Comments
South Western strikes called off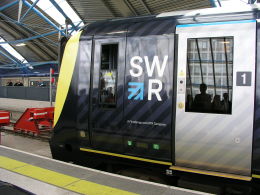 THE RMT has called off a series of 24-hour strikes on South Western Railway which were due to take place this month.
It said SWR had agreed to its offer of talks at ACAS in the continuing dispute over on-train staffing.
RMT general secretary Mick Cash said: "The union welcomes the fact that SWR has agreed to our offer of ACAS talks in the current safety dispute over the threat to guards and the extension of driver only operation.

"As a gesture of good will, and in order to try to resolve this dispute, RMT's NEC has decided to suspend all strike action called. Therefore members will work normally on 9, 11, 14, 16 and 18 May.

"I have contacted the company today requesting that ACAS talks are arranged at the earliest possible opportunity. The company have also been advised that if these talks do not commence by 18 May, the union's NEC may consider further industrial action."
Reader Comments:
Views expressed in submitted comments are that of the author, and not necessarily shared by Railnews.
There is no "current safety dispute".

There is a dispute about management wanting to improve customer service by changing the duties of the second member of staff on services to focus on customer service and revenue protection.

Meanwhile the RMT Luddites want 'guards' fiddling with door buttons for ever more, with the clock stopped in 1951, when in reality modern door operation is safer left to one person and his CCTV, the driver.