Posted 25th April 2018 | 3 Comments
RMT announces new strikes in May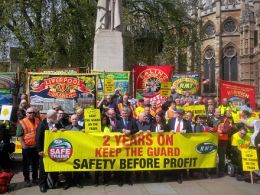 THE RMT has announced further strikes on Northern, Greater Anglia and South Western Railway in the continuing disputes over driver-only operation.
RMT members at all three franchises will strike for 24 hours on Wednesday 9 May. In addition, members on South Western Railway will also strike for 24 hours on 11, 14, 16 and 18 May.
The union has been demonstrating outside Parliament today to mark the second anniversary of the DOO dispute on Southern.
RMT general secretary Mick Cash said: "Yet again the intransigence of private rail companies operating in England over the key issue of the guard guarantee means that we have no option but to announce further strike action.
"With RMT members protesting outside Parliament today we are drawing attention to the ludicrous situation that means we are able to reach agreements in Wales and Scotland on the guard guarantee but not on key franchises in England. If it's good enough for Wales and Scotland to put rail safety first then it should be good enough for the rest of Britain.
"We have long detected the dead hand of the Government interfering to stop us reaching negotiated settlements in the current disputes and it's about time Chris Grayling stopped playing politics with passenger safety and started taking the issue seriously. RMT remains available for genuine and meaningful talks in each of these disputes."
The Rail Delivery Group pointed out that drivers already control the doors on 52 per cent of trains in Britain.
Chief executive Paul Plummer added: "Nobody wins from RMT attempts to undermine rail companies working together to deliver major changes and improvements for customers and communities. Train companies are working to find a way through these disputes so that we can get on with the business of delivering our long-term plan for the railway, playing our part to support Britain's economy."
Reader Comments:
Views expressed in submitted comments are that of the author, and not necessarily shared by Railnews.
In reality, the norm if disorder breaks out on a non-intercity train is for the guard to lock himself away in the rear cab and hope the problem goes away at the next station, when he can calm himself down by a reassuring 'ding ding ... ding ding' to the driver.

If the RMT get their way, it will be 1951 forever. It's about time the RMT membership stood up to their Corbynista leaders and gave them a hoof up the backside, by ignoring strike calls. Similarly passengers should show contempt for the RMT strikers/pickets who want to worsen the rail service by insisting new trains are sent back to their builders to have 1950s door panels fitted.

Enough you Luddites!!!

Had a chat with a Train Driver at Didcot this week. I am now convinced that he can handle any situation with his CCTV monitors inside the Train than any Guard can. For example say there is a fight on the train. A Guard may well end up assaulted or stabbed. A Driver locked in his Compartment can easily ring ahead for support. In the Aircraft Industry, Pilots are now locked away from passengers to ensure a potential hi-jacker can't get access. I think the same applies to trains. Passengers would be heartened to hear that the Driver has rung ahead for Police at the next Station and is busily filming via CCTV any incidents as possible evidence in Court.