Posted 2nd May 2018 | 4 Comments
No 'ironing board' seats on our trains, says Greater Anglia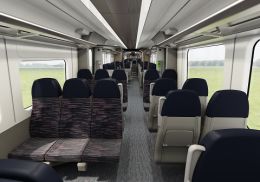 'Kiel' seats on a Bombardier vehicle for Greater Anglia
THE new trains which will soon be coming into service on Greater Anglia will have comfortable seats, the operator has promised, after other recent new builds were criticised for their hardness.
Both the Class 700 trains for Thameslink and the Class 800/1 Intercity Expresses for GWR (and also East Coast soon) have come under fire. One passenger Tweeted that 'the brand new Thameslink trains have ironing boards for seats', while another said they were 'hard, near vertical and narrow'.
Govia Thameslink Railway has admitted that the DfT-approved seats on its new trains are 'firmer', but justified the choice as complying with fire and crash-worthiness regulations and also as being more resistant to graffiti.
However, the new fleets for Greater Anglia, which are being built by Bombardier and Stadler, are not being specified by the DfT and, apparently, can be made more welcoming without breaching regulations.
GA carried out a consultation and also employed a seat specialist when its trains were being designed.
Andrew Schoenemann, of Schoenemann Design, who has over 30 years' experience, previously worked with Greater Anglia on the refurbishment of its Intercity Mk3 vehicles a few years ago.
He explained: "We were presented with a range of seats to look at and we were able to find the best seat to fit the environment for our new trains and for the passengers."
GA chose the FISA 'LEAN' seat for its Stadler intercity and local trains, and made adjustments to the shape of the base cushions, lumbar support and head rests. For the Bombardier trains, which are destined for commuter routes, it has used a Kiel seat with an 'S' shaped seat back, which is claimed to provide greater comfort and leg room.
There are also seat back tables with special grooves to support portable devices, tablets and laptops, accompanied by a plug and USB charging point at every seat – features which are lacking on the Thameslink fleet.
GA's brand manager Jason Brandon said: "We're very aware of the problems that there have been in other parts of the country with seats on new trains and this is why we really listened to customers' feedback and really wanted to avoid any mis-shaped seats or too hard a seat.
"We've heard the feedback from customers, we've listened, and we care about them being as comfortable as possible so we've selected a seat which is far more comfortable."
The DfT has conceded that its specification for the Class 700 Thameslink fleet was perhaps a little spartan. As a result, some seat back tables are being added in Standard Class, while it is expected that WiFi will also be retro-fitted. However, Thameslink passengers will still have to make sure that any devices they bring on board are well-charged in advance: the DfT is understood to have ruled out adding charging sockets, on the grounds of cost.
Reader Comments:
Views expressed in submitted comments are that of the author, and not necessarily shared by Railnews.
1) Passenger numbers aren't falling.
2) I've been on the modern buses providing greater comfort. They're nothing to write home about. The tightly-crammed seats and bumpy journeys outweigh seat padding.
Does anyone cheer when there's a rail replacement bus?

As fares go up and trains become more uncomfortable, little surprise then that passenger numbers are falling. This is a trend which could continue as bus companies head in the other direction and provide greater comfort.

There are some people who will find fault with anything. The story of Goldilocks comes to mind - After she'd eaten the three bears' breakfasts she decided she was feeling a little tired. So, she walked into the living room where she saw three chairs. Goldilocks sat in the first chair to rest her feet.
"This chair is too big!" she exclaimed.
So she sat in the second chair.
"This chair is too big, too!" she whined.
So she tried the last and smallest chair.
"Ahhh, this chair is just right," she sighed. But just as she settled down into the chair to rest, it broke into pieces!.