Posted 23rd February 2018 | 2 Comments
Passengers 'let down' as timetable deadline slips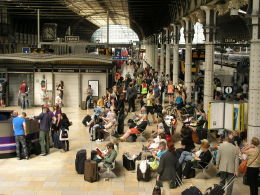 THE deadline for finalising timetables for May has slipped, which means that the 12-week booking horizon will not be available to all passengers as summer approaches.
An internal review has been launched in a bid to discover the causes, while watchdog Transport Focus has accused the industry of 'letting passengers down'. The Office of Rail and Road says it is concerned, and will also be investigating 'how the issue arose'.
The Rail Delivery Group has attributed the delay to the unusually large number of timings which will be amended. These affect some four million services, or about six times as many as usual.
Other factors holding up the process include 'a significant delay to the major electrification work between Manchester and Preston'. The RDG said: 'While the vast majority of passengers will be unaffected, as 98 per cent use season tickets, walk-on fares or book less than six weeks before travel, some passengers will be affected and the industry is working together to ensure that nobody loses out.'
Jo Kaye, managing director System Operator at Network Rail, said: "This decision hasn't been taken lightly, but there is significant change required in the timetable resulting from unprecedented investment, combined with short‐term changes to projects and plans, means that our timetable planning resource is at more than full capacity.
"We recognise this will be inconvenient for some passengers and can only apologise that we've had to take this step."
Managing director of customer experience at the RDG, Jacqueline Starr, said: "While for the vast majority of our customers this change will have little or no effect, the reduced time to plan and book certain journeys may inconvenience some people and for that we apologise.
"Train operators are working together doing all they can to minimise the impact of this change on customers. That's why, if people have booked on a train that is cancelled, delayed, or where their reservation will not be honoured, and they decide not to travel, they will be given a full refund. Should tickets go on sale at shorter notice than usual, people will still be able to get the same range of discounted fares as normal."
This has not reassured Transport Focus, which said that an investigation it carried out before Christmas exposed 'a number of failures to meet the 12-week target'.
TF chief executive Anthony Smith said: "Passengers have been badly let down and will be deeply frustrated that they can't make plans with certainty. They are also at risk of paying more, so we will monitor the effectiveness of the industry's no-quibble commitment.
"Network Rail and train companies need to do everything possible to minimise the uncertainty and make sure passengers aren't out of pocket. The timetable must be accurate against the temporary six-week target.
"The rail industry must demonstrate that it has a clear plan to get things back on track and avoid this happening again. The Office of Rail and Road should carry out a formal investigation."
The ORR has already indicated that it is ready to take action.
Chief executive Joanna Whittington said: "We have already called in Network Rail to explain the arrangements it has to minimise the impact on passengers and freight customers.
"We are investigating how this issue arose, industry's delivery against its obligations and the ongoing response of all parties. We will want to ensure that any lessons learned from this are properly addressed for the future."

Reader Comments:
Views expressed in submitted comments are that of the author, and not necessarily shared by Railnews.
Should have seen this coming. It's not the Rail Delivery Group's fault that Manchester to Preston electrification is overrunning the May deadline, but anyone with any common sense should have known that was a possibility.

At the very least, they should have had a contingency plan ready for if/when this happened.