Posted 7th February 2018 | No Comments
Don't gamble with our economy', DfT is told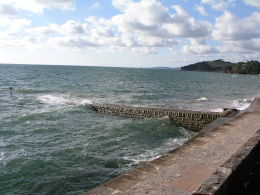 After the storms of early 2014 wrecked the Dawlish sea wall, the far south west's only rail link with London was blocked
POLITICIANS and business leaders in the south west of England have warned that the region's economy is at risk, blaming a lack of investment in resilience measures on the railway.
Apart from the sea wall at Dawlish, where a long stretch was demolished by savage storms in early 2014, other weak points include the cliffs at Teignmouth as well as Cowley Bridge Junction in Exeter, Hele & Bradninch north of Exeter and the low-lying Somerset Levels.
After the storms of early 2014, the far south west's only rail link with London was blocked until the start of April. Reconstruction carried out by hundreds of Network Rail workers was completed just in time for the holiday season, but local leaders estimated that the loss of trains still cost the region £1.2 billion.
Councillor Geoff Brown chairs the Peninsula Rail Task Force, a consortium of local authorities. He said: "Since Dawlish, the PRTF has prepared, funded and submitted a 20 Year Plan for investment into the rail network – 'Closing the Gap' but the peninsula is still waiting for a response from the Government.
"Network Rail has warned that there will be an increase in disruption and closures, rising by over 600 per cent to once in every four years by 2065 if nothing is done to the line. We can't allow the Government to continue to gamble with our economy."
"The Government has spent £35 million on essential repairs reinstating the sea wall. Another £15 million has been committed to the developent work at Dawlish to date but these funds are not enough to take work beyond the option development stage," he continued.
"The PRTF outlined the need for £270 million works to commence on the initial phase of the Dawlish seawall and Teignmouth cliff resilience scheme. The plan also urges completion of flood resilience works at Cowley Bridge, Somerset Levels and Hele & Bradninch."
"The South West needs to be funded in line with other regions across the UK. The Government has increased rail fares to fund improvements in infrastructure, but here in the South West we haven't seen any improvements – where's our value for money?
"The Government has our 20 Year Plan, which clearly outlines our priorities. Let's see action."
The Department for Transport responded: "We are committed to improving the resilience of the line and are doing everything we can to avoid a repeat of the damage caused by the winter storms in 2014 at Dawlish.
"We have already invested £31 million to protect the line, on top of around £40 million spent by Network Rail on repairs. We have also earmarked another £15 million for Network Rail to plan to strengthen key coastal parts of the line between Exeter and Newton Abbot over the next six years.
"We are investing more than £400 million in the rail network in the south-west and will continue to work with Network Rail and the Peninsula Rail Task Force to explore possible longer-term improvements in the south-west."