Posted 16th January 2018 | No Comments
Funding earmarked for 'critical' South Wales Metro project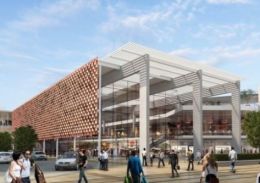 FUNDING worth £40 million has been agreed in principle by the Cabinet of the Cardiff City Region to provide a new transport interchange at Cardiff Central station.
The £180 million project also includes a new bus station, coach station and cycle hub, and the new interchange will play a key role in the future South Wales Metro network.
A meeting of the CCR Cabinet in Nantgarw considered a report from Cardiff City Council Leader Councillor Huw Thomas which outlined the plans, as well as a request for the funding of £40 million.
The Cabinet agreed to allocate the money in principle from the City Deal Investment Fund. The intention is to attract match-funding from other sources, including the private sector as well as the government in Westminster.
However, the decision is still subject to 'due diligence' as well as the confirmation of funds from other sources,
The Cabinet chair Cllr Andrew Morgan said he and his colleagues were 'delighted' to offer support for the development.
He continued: "Anyone who travels into and through Cardiff is very aware of the desperate need for improvements to the transport infrastructure, and the anticipated rapid growth of the capital city means this project is absolutely critical.
"I think it is important to stress that this a project which will benefit all of the region, particularly if we are to see the introduction of a new 15-minute service between the Valleys main lines and Cardiff under the South Wales Metro plans.
"85 per cent of Cardiff's recent job growth arises from an increase in net commuting into the city from adjacent communities, and it is critical this continued growth is supported with the appropriate infrastructure."
Cardiff City Council Leader Councillor Huw Thomas added: "There is a compelling and urgent need to make sure that Cardiff Central can accommodate predicted growth in passenger numbers, especially given the role that the Metro will play in spreading the benefits of the City Deal.
"It is also crucial that we make sure that Wales can compete as a business location and capture mobile investment. This development represents a vital step towards creating Wales' first truly internationally competitive business hub, focussed around the nation's main transport interchange and creating jobs for the whole region."