Posted 15th January 2018 | No Comments
Nottingham station fire is treated as arson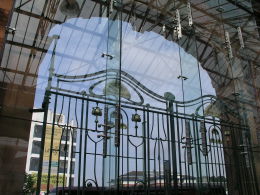 The station's recently restored concourse was undamaged
A MAJOR fire which closed Nottingham station on Friday may have been started deliberately. Police have launched an appeal for information.
The blaze was reported at about 06.30, and the seat of the fire is thought to have been a toilet in the adjacent multi-storey car park.
The flames soon spread to the roof over platforms six and seven, and the whole building was described as 'smoke-logged'. Passengers and staff were evacuated safely, and no injuries were reported. All train services were suspended and the tram bridge which runs across the station site was also closed, interrupting tram services between the north and south of the city.
A total of 60 firefighters from Nottingham Fire and Rescue service fought the blaze for several hours before it could be brought under control. A senior fire officer described their task as 'arduous'.
Five of the seven platforms were reopened the following day, and full services have now been restored.
The station's Edwardian architecture was recently restored at a cost of £50 million, and the main concourse escaped damage.
East Midlands Trains managing director Jake Kelly said the return to normal had been the result of 'a great team effort'. He continued: "We are very pleased to be running a near full service from Sunday into the start of the working week on Monday. Even so, we would still advise passengers to check before they travel and also allow a little more time for their journeys."
One passenger told the BBC on Sunday: "I thought it would be dirty and boarding up everywhere. The entrance we came from has been really clear and fine and we have had lots of help. It is amazing – you wouldn't have thought there had been a fire."
The main ticket office remained closed and some information systems were out of order as a result of the blaze, but staff were selling tickets on the concourse instead.
British Transport Police are treating the blaze as a case of arson. Superintendent Sandra England said: "Enquiries have been ongoing and we now have reason to believe the fire may have been started deliberately. Officers are working to identify anyone who may have been involved in the incident, and we are appealing for information from members of the public."