Posted 12th January 2018 | No Comments
Major fire closes Nottingham station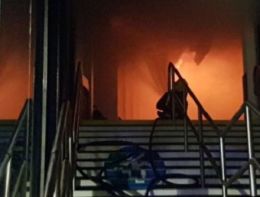 (picture from Nottinghamshire Fire and Rescue Service)
TRAIN services in the East Midlands are being seriously disrupted by a major fire at Nottingham station.
The station itself is closed and all lines are blocked. Streets around the station have also been sealed off.
The fire is believed to have started in a public toilet in the adjoining car park building, but it soon spread to the main concourse and up into the roof. No injuries have been reported.
Some 60 firefighters are at the scene. Nottinghamshire Fire and Rescue Service said the station is heavily smoke-logged and fire crews in breathing apparatus are at work, aided by an aerial ladder platform. The battle to bring the blaze under control was described as 'arduous' by a fire service officer.
A joint investigation into the cause of the fire is underway, involving Nottinghamshire Fire and Rescue Service and British Transport Police.
East Midlands Trains has imposed special timetables, with Nottingham trains from London using East Midlands Parkway. Other main line services between London, Leicester, Derby and Sheffield should be nearly normal, but EMT warned that some cancellations are possible because trains and crews are out of position. Local train services are also being disrupted by the closure.
An East Midlands Trains spokesman said: "The station has been evacuated and there have been no reports of any injuries to customers or staff. We will continue to assist the emergency services in any way that we can."
The station will remain closed for today. Tram services through the station area have also been suspended, and trams from Hucknall and Phoenix Park, north of the city, are terminating at Old Market Square. Passengers from the south of the city are being advised to use buses instead for the time being.
The incident began at about 06.30 this morning, Eyewitness Sarah McMullan told the BBC that she saw smoke coming from a toilet at the station's multi-storey car park. She said: "You don't think much of it when there's a little bit of smoke and police already there, but then we were evacuated. It was pretty frightening to see how quickly a fire can grow. You can see billowing smoke and flames above the roof on the far side."