Posted 13th December 2017 | 2 Comments
Euston to welcome homeless people for festive event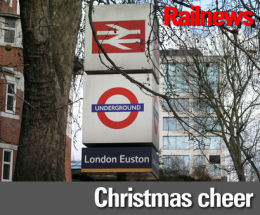 THE broad concourse at London Euston station will welcome a different kind of visitor on Christmas Day this year.
Instead of passengers heading for Llandudno or Long Buckby, Watford or Wigan, the day will see 200 of London's homeless people welcomed to a Christmas meal.
The event has been arranged through a Network Rail partnership with homeless charities Streets Kitchen and St Mungo's.
Around 30 volunteers from Network Rail will give up their Christmas Day to work alongside the charities.
St Mungo's provides a bed and support to more than 2,700 people a night, and Streets Kitchen ifeeds 1,000 people on the streets every week.
The 200 guests invited by St Mungo's and Streets Kitchen will be arriving at Euston station from 1100 on Christmas Day, when the concourse will be filled with decorations and tables will be laid so that the guests can enjoy a full Christmas meal and some company.
Steve Naybour, head of transformation in Network Rail's track team, is leading the Network Rail group running the event. He said: "Using a station to give homeless people some festive cheer is a great thing to do.
"Working on Christmas Day is pretty much par for the course for many of us but this year, because I wasn't scheduled to work, myself and a handful of colleagues came up with this plan to feed some of London's homeless instead.
"St Mungo's and Streets Kitchen have been fantastic. And I'm proud to say we've had lots of interest from colleagues to volunteer to come along on the day to help out.
"All of this is possible due to great support from the station team, British Transport Police and local and national suppliers including the Pret Foundation Trust, Blacks outdoor clothing, Virgin Trains and Abellio – they've been amazing in making this event happen."
Euston station manager Joe Hendry added: "The station team is delighted to bring this unique event to life.
"Stations are at the heart of local communities and we want to provide a legacy through good relationships with organisations like St Mungo's and Streets Kitchen that supports the homeless community in and around our station long after the buzz of Christmas has died down."
Reader Comments:
Views expressed in submitted comments are that of the author, and not necessarily shared by Railnews.
What a fantastic gesture by all the agencies involved. Let's see if the press report this about the railway community instead of the usual moaning about lack of services over the holiday period which seems to be an annual event for them.