Posted 18th September 2017 | No Comments
Red hat clue to District Line bombing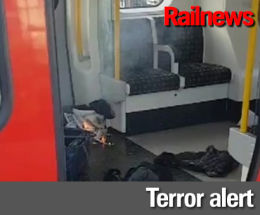 A RED hat and a supermarket carrier bag seen on CCTV are reported to be important clues as the investigation into the London Underground bombing continues.
Two suspects are being questioned, and the national threat level has been reduced one step to 'severe'.
The Home Secretary has appealed for continuing vigilance by the public. Amber Rudd said the investigation has 'made good progress'.
It is now known that a total of 30 passengers at Parson's Green station in south west London were hurt on Friday morning, when the device was ignited inside a Lidl bag in the vestibule of a District Line train. Most of their injuries were flash burns.
Two people have been arrested. One is an 18-year old who was detained at the port of Dover. The other, aged 21, was arrested in Hounslow on Saturday.
Police have also been searching three houses in Stanwell, Sunbury and Hounslow.
Reports say that a man in a red hat was seen leaving a house in Sunbury with a Lidl bag 90 minutes before the explosion, and that his movements were recorded by chance on a neighbour's CCTV.