Posted 15th September 2017 | No Comments
Mayor appeals for calm after Underground explosion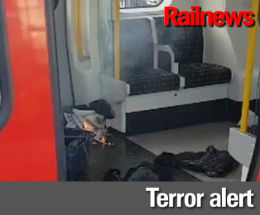 MORE than 20 passengers on a London Underground train have been taken to hospital with burns after an explosion on a District Line train.
Police are treating the explosion at Parsons Green station as terrorism. The national terrorist threat level is under review.
The BBC is reporting that the device, contained in a white bucket inside a supermarket bag, had a timer.
Assistant Commissioner Mark Rowley said: "This was a detonation of an improvised explosive device. The scene currently remains cordoned off and the investigation continues. Londoners can expect to see an enhanced police presence, particularly across the transport system across the day."
Police have appealed for help from anyone who took photographs or videos at the scene, asking them to upload them to ukpoliceimageappeal.co.uk.
Theresa May Tweeted her sympathy, but has since rebuked US Presdent Donald Trump, who posted: "Another attack in London by a loser terrorist. These are sick and demented people who were in the sights of Scotland Yard. Must be proactive!"
Mrs May rebuked him, saying: "I never think it's helpful for anybody to speculate on what is an ongoing investigation."
A Scotland Yard spokesman added: "The comments are unhelpful and pure speculation. If anyone has got any evidence or information, please contact the anti-terrorism hotline."
London Mayor Sadiq Khan has appealed for calm.
None of the 22 passengers who were taken to hospital are thought to have been seriously injured.