Posted 15th August 2017 | 4 Comments
Rail industry braces for fare increase decision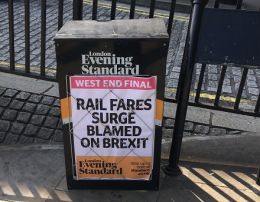 The industry is expecting a relatively high increase this time because June's RPI was 3.5 per cent and July is expected to be about the same
THE size of January's fare increases on National Rail should be known today, when the Retail Price Index for July is announced. The announcement is being accompanied by RMT demonstrations at stations around the country.
Campaigners have already been protesting at what they expect to be the largest increase for several years, at a time when pay levels are falling behind inflation.
RPI has been used for many years as a base for annual increases in government-regulated fares, which include most season tickets as well as Saver fares on intercity services.
For some years, governments imposed an additional increase beyond the RPI measure to help shift the balance of support from taxpayers to passengers, but in recent times the increase has simply reflected the RPI.
This is still controversial, because critics say RPI has become discredited as a fair measure of living costs, pointing out that the Index is not considered to be a 'National Statistic' by the Office of National Statistics, which says the measure has been 'found not to meet the required standards for designation'. Campaigners against further rises are calling for the usually lower Consumer Price Index to be used instead, but also say any rise is unjustified in January 2018 because pay has not kept pace with inflation in recent years.

The industry is expecting a relatively high increase this time because June's RPI was 3.5 per cent and July is expected to be about the same. This is thought to reflect the fall in the value of sterling following last year's vote to leave the European Union, which has tended to make imports more expensive.
Labour shadow transport secretary Andy McDonald said: "With rail fares soaring ahead of wage growth, the Government simply can't justify allowing passengers to be ripped-off under privatised rail.
"It is outrageous that UK commuters pay over the odds in order to subsidise travel in France, Germany, Holland and Italy and generate huge profits for private train companies. The Tories ought to be standing up for the interests of the travelling public rather than the private and foreign state-owned companies who run our railways.
"The Retail Price Index should be scrapped as the measure for increases and replaced with the lower Consumer Price Index. Labour will stop fares from rising above inflation and take our rail back into public ownership."
The RMT is also opposed to any fare rises in January, and will be staging protests at more than 30 stations, ranging from Kirkcaldy and Edinburgh to Cardiff Central, Bristol Temple Meads and Plymouth.
The union's general secretary Mick Cash said: "Government policy of suppressing workers' wages while at the same time presiding over corporate welfare on our privatised railway has resulted in a toxic combination of fare rises easily outstripping wages.
"The private operators and government say the rises are necessary to fund investment but the reality is that they are pocketing the profits while passengers are paying more for less with rail engineering work being delayed or cancelled, skilled railway jobs being lost and staff cut on trains, stations and at ticket offices."
The official watchdog Transport Focus has also voiced concern, saying: "It should be noted that passenger satisfaction with value for money is already low, especially for commuters. We also think a different measure for inflation should be used for rail fare increases."
The Rail Delivery Group maintains that wages have grown faster than the price of train travel since the turn of the century. It said that since 1999-2000 average earnings had increased by 2.1 per cent in real terms while the average price paid for each rail journey had decreased by 5.3 per cent, again in real terms.
Meanwhile, the Department for Transport has declined to comment until July's Retail Price Index is announced.
Any changes may not be the same in Scotland or Wales as in England, because the devolved governments make their own decisions.
Reader Comments:
Views expressed in submitted comments are that of the author, and not necessarily shared by Railnews.
Long distance commuting is a bit of an anomaly anyway ; it seems a particularly English ( rather than British) phenomenon. How is it that London salaries and house prices are so "out of kilter" with the rest of the country?

If this problem could be addressed, the need for multi - thousand pound season tickets might abate.

Of course given the increase due this year due to inflation then rail unions are perfectly free to demand rises using this same formula.... It's called Free enterprise !

Will The RMTs leadership be advising their members not to take a pay rise to reduce passenger fares?