Posted 4th July 2017 | 7 Comments
Tram-train project costs have soared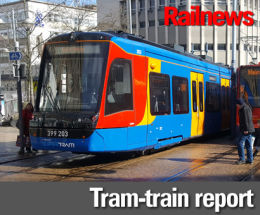 THE cost of a tram-train service between Sheffield and Rotherham has risen from £15 million to £75 million, the project is running several years late and last year the government was advised to cancel the project – a suggestion which it did not accept.
These facts are revealed in a new report from the National Audit Office which examines the costs and difficulty of adapting Network Rail infrastructure so that tram-trains can share tracks with conventional trains.
The report explains: "The business case was based on the benefits to local transport users, such as reduced journey times. The benefit-cost ratio of 1.0 fell into the Department's 'low' value-for-money category. The Department considered the wider benefits of the pilot, such as lower industry costs and economic benefits, to be 'very uncertain'. In May 2012, HM Treasury approved the project 'on an exceptional basis' to allow a more detailed evaluation of the value-for-money of tram-train schemes."
It concludes that there were several fundamental problems, including errors in the original cost estimates, the complexity of merging the technologies of heavy and light rail, the condition of the existing track and structures and the development of new techniques and ways of working which were more challenging than the project's planners had expected.
Seven tram trains have been procured by South Yorkshire PTE, with most of the funding coming from the DfT, and are currently being tested on conventional tramway sections, but last July the DfT's Rail Investment Board concluded that 'under normal circumstances there was no commercial justification to provide further funding to the project', and recommended that it should be cancelled, because many of the lessons about using tram‑trains in the UK had been learned and cancellation would release at least £20 million from the Department's budget.
However, scrapping the scheme would have wasted around £25 million already spent by Network Rail on the DfT's behalf, and cancellation would also have triggered 'significant stakeholder and media criticism'.
Although the benefit-cost ratio had worsened as costs spiralled, declining to 0:31, the DfT still believed that there was a 'strategic business case', partly because other towns and cities with tramways were interested, at least potentially.
According to the Rail Investment Board, the decision reflected 'the strong desire of the Minister [Paul Maynard] to see the lessons learned from this pilot available for the development of further tram-train schemes with greater potential elsewhere in the country – such as Cardiff Valleys, Glasgow Airport and Manchester'.
Mr Maynard wrote to Network Rail confirming that the pilot should continue and inviting it to 'consider funding options'. In response, Network Rail closed a gap of more than £26 million by transferring £4.6 million from its renewals budget and also effectively borrowing £21.9 million from the budget for Control Period 6, which does not start until April 2019.
Until then most of the funding had come from the DfT, and Network Rail had originally expected to spend just £3.3 million on modifying the heavy rail section between Tinsley and Rotherham,
Although tram-trains are now being tested in the streets of Sheffield, the NAO says services through to Rotherham on Network Rail infrastructure are not expected to begin until next summer, while in May this year the Supertram concession holder Stagecoach successfully claimed £2.5 million from the DfT in compensation for lost revenue.
Rob McIntosh, who is Network Rail's London North Eastern and East Midlands Route managing director, said: "Sheffield to Rotherham tram-train is an ambitious pilot, a UK first, that will bring new travel choices to people of South Yorkshire when services begin in 2018. The project continues to be complex and challenging but will deliver real benefits for thousands of daily commuters.
"Costs and timescales have moved as the project itself has grown in scope and complexity and has had to incorporate more significant infrastructure changes than originally planned. Good progress is being made and a new project team is now in place and driving the scheme to its conclusion.
"The project has learned from tram-train systems in Europe that have encountered their own challenges but there were still a significant number of unique issues to the UK that had to be overcome."
Reader Comments:
Views expressed in submitted comments are that of the author, and not necessarily shared by Railnews.
Next tram-train's already booked - Paisley to Glasgow Airport, 2022, so that'll be another short electrification.

Let's hope that Strathclyde Transport & the Holyrood Ministry of Transport have a long, serious look at where they're sourcing the project!!!!

Tram-train has been going, successfully for many years in Germany.
But, of course, we have to re-invent the wheel & make it more expensive.

Project engineers were warned about OHLE clearances not just with this project, but in terms of NR and its early planning for Sheffield to Doncaster mainline electrification. Continued re-ballasting and heightened camber allowances over the years have pushed track levels higher making OHLE tolerances tight, and local rail engineers and contractors knew this...... how this has been overlooked I have no idea.

Just to give everyone a flavour of the brain power involved with these projects, a proposal was discussed to consider the possible extension of supertram services north from Middlewood up to Deepcar and Stocksbridge largely using the former Woodhead route alignment. One of the benefits listed was the ability to re-use the masts and catenary 'still in place'........!!!!

I do hope one of the lessons we learn from this debacle is to look at 'electro-diesel tram-train' and battery-pack charging options, very low-cost engineering where electrification is not required, and extensive use of renewable energy collection to off-set costs.

This lamentable project ought to serve as the 'poster-boy' for how not to do 'tram-train', rather than a 'red-light' to dozens of possible future 'electro-diesel' schemes....

Quite unbelievable that at this late stage, with the Meadowhall South curve & Parkgate tram-train stop in place & the vast majority of the masts up, we're in a 4 month road closure in Rotherham town centre to demolish & replace College Road bridge. Surely someone should have picked up that it was too low on the first site walkout right back at the beginning?

The last comment hits the nail right on the head. Utter madness to go for electrification on the route to Rotherham, given this is supposed to be a trial. Add to that the complication of dual power operation plus the dual TPWS/GSM-R signalling.

The tram-train works in Germany because it is largely designed not to interact with other operators. Kassel now has very few trains, as all local services are tram-trains and divert into a tunnel under the station. Why must we seek to reinvent the wheel instead of learning from the successful German experience. Tram-train running on the MML is not necessary!

Already a proven concept on the continent serious questions have to be asked why it has proved to be so expensively complex & challenging to adapt to the UK network. A five fold increase in cost is symbolic of much that has gone wrong with delivering infrastructure enhancements within the privatised industry where costs have been allowed to run out of control.. Against advice ministers have allowed this vanity project to continue when even it's initial business case was flimsy. With austerity the byword of government they should be personally held accountable for squandering limited funds.

While different technical standards apply to light & heavy rail Manchester Metrolink & Croydon Trams have made use of former mainline infrastructure. The Tyne & Wear Metro Sunderland service shares NR infrastructure with heavy rail passenger & freight services. Why hasn't this experience been adapted in the development of this scheme.

The one point I can't appreciate is why it has been necessary to compensate Stagecoach for non existent revenue. Yes they make have cost to associated with implementing the scheme but lost revenue seems to be shaking the governments magic money tree a little too vigorously.

.....its difficult to believe how dim the thinking has been with this project IMO.

The 'tram-train' project has been successful predominantly in Germany in enabling low-cost conversion of local redundant railways into productive additions to fantastic networks; (see Kassel in Germany for their 'RegioTram' network). Sheffield is the perfect territory for 'tram-train' IMO, relatively undeveloped local rail network, but with lots of useful redundant former railway lines.

These trains ought to have been 'electro-diesel' variants; (such as the Alstom 'RegioCitadis'); and if this option had been explored, there would be no massive electrification cost. We could quite happily already have seen these electro-diesels providing services from Sheffield eastwards to Doncaster-Sheffield Airport, westwards towards Dore and Totley or southwards to Killamarsh/ Woodall/ Eckington from Halfway.

We ought to be considering setting up a manufacturing plant in the UK to build a 1000 of these 'electro-diesel tram-train' carriages, as IMO they are the key to developing better metro/city rail services outside London.