Posted 13th June 2017 | No Comments
London trams to get new safety system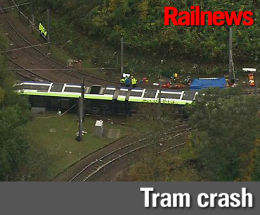 TRAMS in London are set to be equipped with a safety system which would monitor their speed and intervene if necessary.
Transport for London is now inviting the supply chain to take part in developing a form of ATC for trams following last November's fatal crash near Croydon, in which a speeding tram overturned on a bend with a 20km/h limit, killing seven people.
Since then there have been reports of tram drivers being seen asleep in their cabs or of trams being driven too fast.
Director of London Rail at TfL, Jonathan Fox, said: "Since the tragic derailment we have been working on the development of an in-cab driver alert system for monitoring and managing tram speed. We are now seeking interest from the wider industry to help support us in the development and introduction of that system."
Trevor Sterling is a partner at Moore Blatch solicitors, which has been representing some of the survivors. He told the BBC: "Since we began investigating the tragic Croydon tram disaster, we have repeatedly expressed our view that trams should be regarded more like trains than buses.
"We consider the introduction of automated braking systems, which is welcomed by our clients, to be a very significant part of this necessary change in mindset."
The Mayor of London Sadiq Khan wrote to the Rail Accident Investigation Branch in early May, following claims of unsafe tram driving made by a BBC programme.
The Mayor said: "These claims are obviously alarming, and it is only right that they are considered by the Branch. Nobody wants a tragedy like this to ever occur again and that's why it's incredibly important that we establish the root cause of this terrible incident and take every single measure possible to ensure that safety is at the forefront of London's tram operations."
Since the crash TfL has introduced additional speed restrictions and signage near Sandilands and at three other places on the tram network. It has also held a summit with other tram operators.